We challenge up to stand any bodybuilder better than Frank Zane! Simply, no other persona can stand against the 3-time Mr. Olympia and GOAT bodybuilder!
In fact, Frank Zane Today is the greatest lightweight bodybuilder.
Beginning from the age of 14, nothing but dumbbell and a dream, Frank workout rigorously to acquire the supreme physique of all time.
Meanwhile, working as a full-time Math educator, Frank Zane Bodybuilder found time to get such a super ripped and sculpted figure that envied and frightened his rivals.
Here's we're sharing the journey of him turning to the icon in the fitness industry.
Frank Zane Accomplishment
Frank Zane Net Worth is right now counted in millions even at the age of 77.
Before having a look at the journey of the iconic bodybuilders, let's have a look at the impressive list of Frank Zane Accomplishment.
Well, starting from 1961, in his entire career Frank Zane Bodybuilder got several titles including:
Mr. Olympia, NABBA Pro Mr. Universe, IFBB Mr. America, and IFBB Mr. Universe.
​
| | |
| --- | --- |
| Year | Achievements/Bodybuilding titles |
| 1961 | Mr. Pennsylvania (17th place) |
| 1962 | Mr. Keystone (Winner) |
| 1963 | Mr. Keystone (2nd) |
| 1965 | Mr. Sunshine State (Winner) |
| 1965 | IFBB Mr. Universe (1st, Medium Height category) |
| 1966 | IFBB Mr. America (1st, Medium) |
| 1967 | IFBB Mr. America (1st, Medium) |
| 1967 | IFBB Mr. Universe (3rd, Tall) |
| 1968 | IFBB Mr. America (Winner) |
| 1968 | IFBB Mr. Universe (Winner) |
| 1970 | NABBA Mr. Universe (Winner) |
| 1971 | NABBA Pro Mr. Universe (1st, Short) |
| 1972 | NABBA Pro Mr. Universe (Winner) |
| 1972 | IFBB Mr. Olympia (Under 200 lbs., 4th) |
| 1974 | IFBB Mr. Olympia (Under 200 lbs., 2nd) |
| 1975 | IFBB Mr. Olympia (Under 200 lbs., 4th) |
| 1976 | IFBB Mr. Olympia (Under 200 lbs., 2nd) |
| 1977 | IFBB Mr. Olympia (Under 200 lbs. & Overall Winner) |
| 1978 | IFBB Mr. Olympia (Under 200 lbs. & Overall Winner) |
| 1979 | IFBB Mr. Olympia (Under 200 lbs. & Overall Winner) |
| 1980 | IFBB Mr. Olympia (3rd, after suffering a near-fatal injury at his home, requiring lengthy hospitalization) |
| 1982 | IFBB Mr. Olympia (2nd) |
| 1983 | IFBB Mr. Olympia (4th, after suffering another accident on his bicycle, requiring extensive shoulder surgery shortly after the contest) |
Frank Zane Early Year
Not only the Pro Muscle Builder has a tough physique, but his childhood had been tougher. Born 1943 in Kingston, Pennsylvania, the blue-collar coal-mining town—he had enough fights even before when he was a teenager.
Whether he won or lost, it toughens him and got him the courage of future champion to stand up for what he believes in.
Discovering Bodybuilding
Discovering a bodybuilding magazine at his school, 14-year-old Frank was inspired so much that he got himself 30 lbs. set of dumbbells and hit training immediately.
Still, not everyone took his enthusiasm for self-development, especially his father. Usually, he referred to the weight of time and directed him to do house chores rather.
With consistent 3 years of rigorous training, form 130lb 14-year-old boy frank turner into massive 160lb stocky 17-year-old. Really, he gained a massive 30lbs of lean muscle in just 3 years.
Frank Zane's Bodybuilding Statistics 
185 - 195lbs (83.9 - 88.5kg)
Bodybuilder, Founder of WABBA, Head of IFBB France and Europe, Actor, Author
Frank's Passion for the Sport
Eventually, watching out the early success, Frank's parents started encouraging his motivation for bodybuilders.
He was so focused on working out, he would use whatever weight available on campgrounds to train. Even, when there was nothing at home we would manage it up with would hitchhike 20 miles with 55lbs of weights
Simply, all of these efforts, just not to miss a workout.
Well, Frank Zane Bodybuilder kept up training throughout his studies. Further, it went more serious when he started working as a Math teacher in Florida.
Competing in Florida
By 1966 Frank had started dominating the local bodybuilding groups. So, he looked forward to moving to California, to step to the next level.
However, having a well-settled life in Florida prevented him from moving up. Later that year, he met Christine his future wife. After fitting into his bodybuilding lifestyle, she took over his footsteps and started winning competitions of her own
The hard work of Zane made it clear, he had grand things ahead of him. With just 2 years of serious training, he got his first Mr. America Title in 1968 in New York City.
After which Frank Zane Bodybuilder beat Arnold Schwarzenegger, to win the Mr. Universe competition in Florida just after a weak.
Moving to California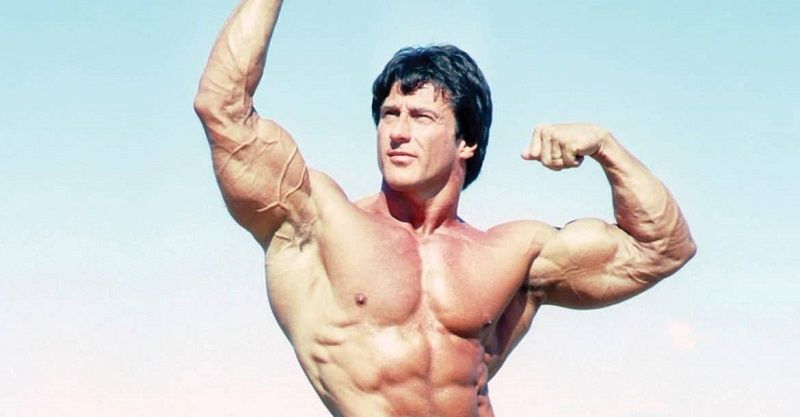 Both Frank and Christine Zane were very passionate about bodybuilding and moved to California to take the next step in their career.
Working as a fulltime teacher, Frank still managed the balance of his teaching career and successful bodybuilding career. Well, after his two grand wins he quickly becomes known for his greatest physique of all time.
In all the competition he entered, he either won or got the highest rank until 1977 where he won Mr. Olympia competition for 3 years in a row. There's no grandeur honor than it!
The Freak Accident of 1980
After getting the 3 tittles of Mr. Olympia in a sequence, he was 8 weeks away from his 4rth appearance where he had a life-threatening injury.
Frank Zane Bodybuilder slipped poolside edge and got himself in severe blood loss. In fact, by the time he reached the hospital, he was in a life-threatening state and kept on extensive care for several days.
After the misfortune, Zane had to constantly revisit the hospital with the injury opening again and aging. Well, it took almost 2 weeks for Frank to make things under control resulting in a loss of approx. 15lbs of muscle mass.
Another Accident and Retirement
The final nail in his career coffin arrived in 1983 when he met a bicycle accident and got his shoulder injured.
Still, Zane refused to drop out of the Olympia and got surgery and trained in the paint to get into the competition.
Frank Zane Bodybuilder came fourth and required several surgeries to manage to repair the injuries.
The 1983 Olympia was his final official bodybuilding participation. Afterward, Frank Zane Wife with him kept full focus on their new venture Zane Haven – a bodybuilding-learning center.
Even since Zane Haven has extended. Also, he releases his own designed exercise known as Leg Blasters. Currently, Frank Zane Now resides in San Diego.
Frank Zane Workout & Training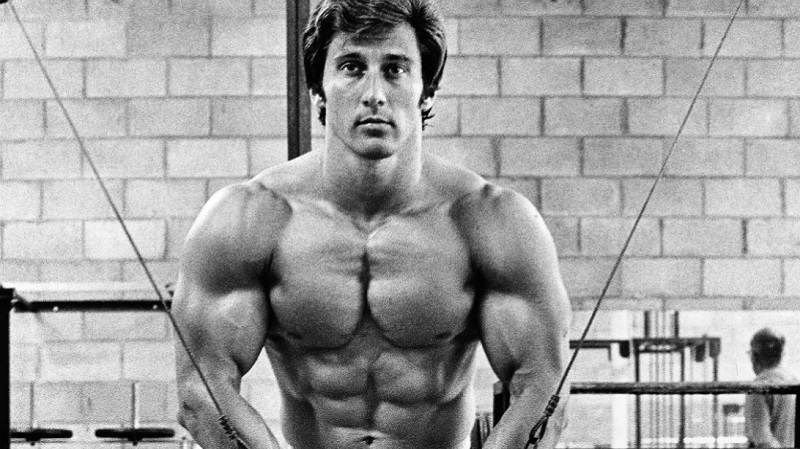 Frank Zane Bodybuilder, one of the most versatile bodybuilder, switched several training styles in his entire career. Undoubtedly, he was flexible and never steps backward with anything new—that's why he's so successful.
Began with lightweight he targeted high reps for maximum ripping and toning. However, this made him lean, not at all qualified for winning competitions.
All he wanted was going Massive!
Joe Weider told the only way to grab it was by heavy sets and less volume. Eventually, it worked for Frank!
Resulting in Zane getting 3 consecutive grand winnings of 3 Mr. Olympia competitions
As a self-learned lifter, Zane didn't initially have used to certain muscle groups daily that mostly bodybuilders followed.
However, he found out his own way by splitting his complete workout over 2 sessions:
Upper Body & Lower Body
His upper body session lasted for up to 3 and a half hours per workout.
After moving up to California, Zane changed his routine to tune with other muscle builders. Well, this included a more focused approach and training contrasting muscles every day.
Here's what a typical Frank Zane workout week:
Chest and Back – Mondays & Thursdays
Legs – Tuesdays & Fridays
Arms and Delts – Wednesdays & Saturdays
Rest – Sundays
Well, on small muscle groups we would do 10- 12 sets and on larger muscle groups, 15-20 sets. Later, in his career, this workout split in 3-day, the fourth day left for rest.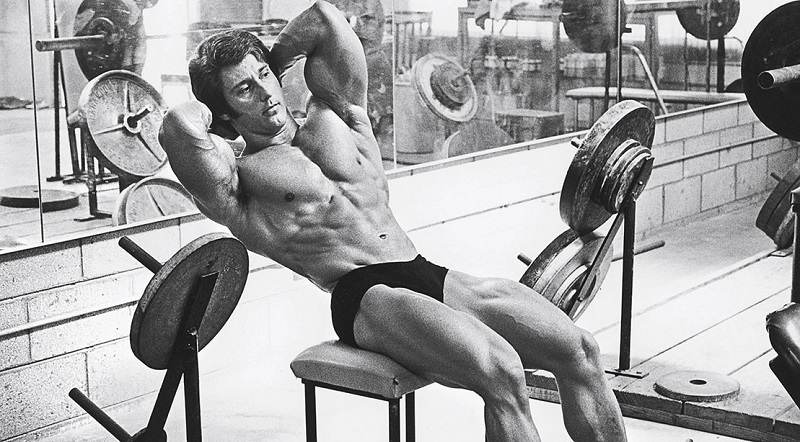 Surprisingly, this workout was an exact reverse of his previous routine and supported muscles rather than opposing.
Back, Biceps and Forearms – Day 1
Legs – Day 2
Chest, Shoulders, Triceps – Day 3
Rest – Day 4
Well, he was also a big Abs guy. Actually, he trained his abs on all his training say with max volume. Simply, following about 400 – 1000 reps a day for a super shredded look.
He always listened to his physique and accepted changes, getting him to a lifetime of success.
Frank Zane Nutrition
Zane was often referred to as 'the Chemist' for a reason.
He loved exploring supplements and experimenting, to determine the perfect stack leading him to victory.
Frank mostly prioritized nutrition for pre-workout food. Interestingly, unlike other muscle builders, Zane didn't even give a look at what he was eating after workouts—all it was before.
Moreover, he was quite concerned about his calorie intake and seldom took only 3000 calories a day. Also, he never emphasized on carbs and relied on concentrated protein. Further, he made sure he has healthy for at least 25% of his diet.
Frank Zane Bodybuilder Idols and Influences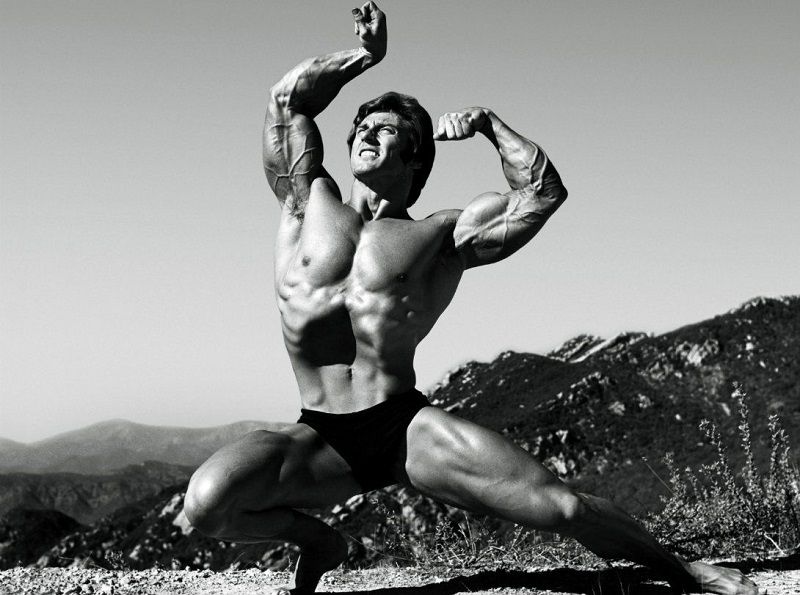 What motivated Frank Zane Bodybuilder? Survival
Although, the magazine he found gave him the idea of what he wants to be. However, real inspiration was his firm determination.
In an interview, the bodybuilder, remembered his earlier days, in his hometown. Well, growing up in a town like that, without being tough it was hard to survive.
In fact, the Mr. Olympia winner didn't have many idols, but he was of many.
With his Supreme Physique, he would remember as the bodybuilder with the greatest physique for all time. Still, he continues to motivate the future generates athlete training today.
Train in a practical way. It's not going to occur overnight. Don't try to get in shape in one day, or one week, or even one month.

Take your time. Do a good job. Take photos. Learn what you look like and visualize what you'd like to look like.

Don't fall for any kind of scheme of getting big quick. Do not bulk up. Don't get big quick. If you can follow that you'll develop a great body, and you'll have it for a long time.
What We Can Learn From Frank Zane?
A vital lesson, we can learn from the journey of Zane is to take time and use your strength!
The American former professional bodybuilder self-confessed himself that he wanted an awesome physique like the size of Arnold Schwarzenegger or Serge Nubret – and he just wasn't built that way.
Instead, he took time, trained consistently and he continued to alter his style to look at what he wanted and acquire his best shape.
He was never going to be bigger, so he focused more on proportion—which was a much difficult journey?
Well, the lesson here is to be extremely patient. Zane trained for over 15 years before he got his first Olympia. After which he won three in a row.
Simply, he was ready to take the time need and always focused on long-term goals rather than quick wins. The real secret behind his success.
Don't Miss:
Top 10 Bodybuilders in the World 2020