Arnold Schwarzenegger born on 30th July in the year 1947 and he spend his childhood in Thal which is situated in Austria (small village bordering with Graz).
In 1969, Schwarzenegger has been relocated from Munich to Southern California. And in 1975, his first ever retirement from the professional bodybuilding were not stayed for the longer period. After few years Arnold's passion for bodybuilding raised and he started his training with full dedication and passion.
As a result in 1980, Arnold won his 7th Mr. Olympia titles, and after that he transformed himself as a greatest bodybuilder. He used to perform workouts twice a day, helped him in mass bodybuilding, which is maintained by him till today.
Arnold mostly performed high volume training (Such training is ignored by most of the trainers as it does not results to proper muscle recovery). But, Arnold's madness made it possible by performing the actual and perfect workouts.
So now, we will discuss about the workouts performed by Arnold (king of Bodybuilding) for different body parts.
But before that, here we are gonna discuss the competitive bodybuilding stats of Arnold Schwarzenegger.
Let's take a view on that!
Arnold's Competitive Bodybuilding Stats
Born– 30th July, 1947, in Thal, Austria
Height– 6'1½ "
Competition Weight – 235lbs
Off- season Weight – Around 250lbs
Chest– 57"
Waist – 34"
Bench Press – 440 Pounds
Deadlift– 710 Pounds
Squat – 470 Pounds
Thighs – 28½"
Calves – 20"
Arnold's Double – Shift Workouts Routine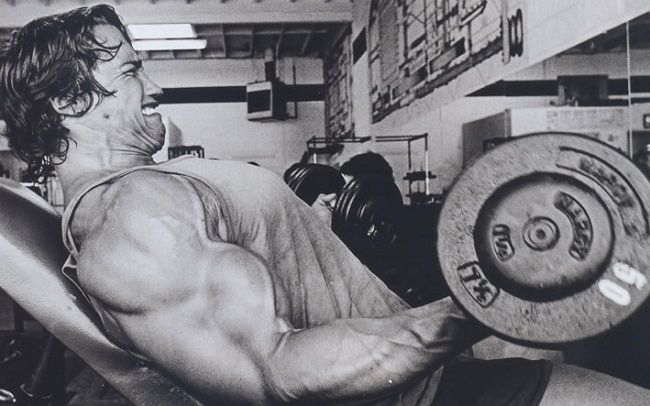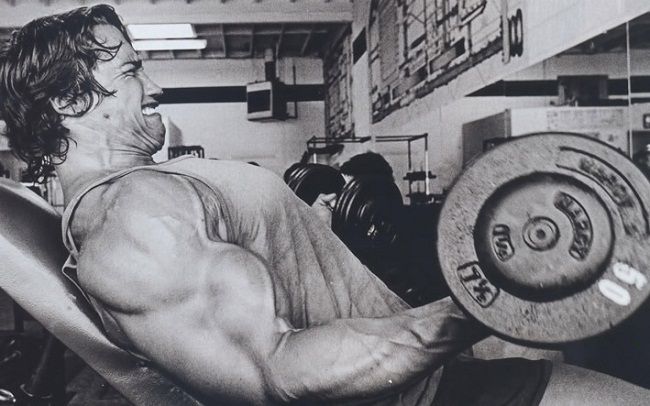 Days 1, 2 and 5
Morning Workouts- Chest, Back
Evening Workouts- Legs, Calves, Abs
Days 2, 4 & 6
Morning Workouts– Shoulders, Triceps, Biceps
Evening Workouts- Calves, Abs
Days 7
Morning Workouts-Rest
Evening Workouts– Rest
Now, let me explain you Arnold's several body part workouts separately such as chest, back, biceps, triceps, abs, calves, shoulders and legs in detail.
Chest & Back workout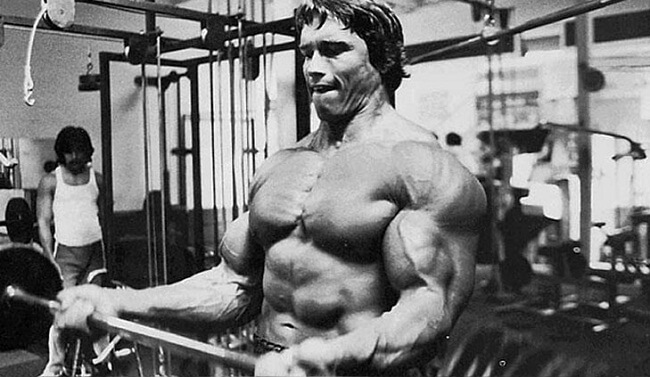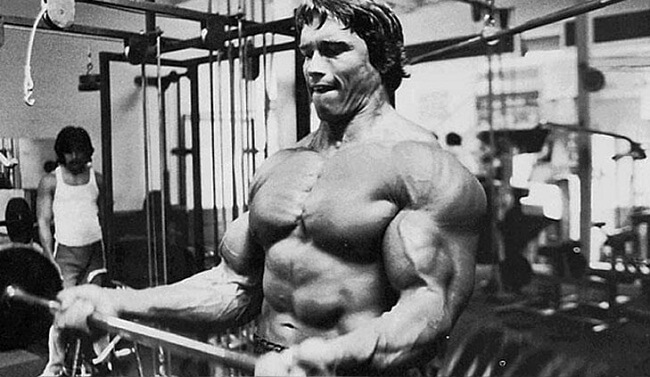 The reason for explaining both the body part together as because Arnold focused on both the part together instead of treating it separately.
Arnold has a simple reason of doing so, first one it helped him to save time and Arnold can performed it easily in one hour only. Second, in desire of developing greater muscle density. And third, he enjoy greatly while performing chest and back workouts.
When Arnold used to be in energetic mode, he increased his training intensity and performed the training of chest and back together.
Here it is described in the detail, it will really help you in understanding the actual style of Arnold used while performing back and chest workouts.
Arnold's Shoulder Workout
                  Exercise
  Sets
 Rep Goal
                                 Chest
Bench Press
   3-4
   10
Incline Bench Press
   3-4
   10-15
Flat-Benched Dumbbell Eye
    5
   10-15
Weighted Dip
    5
   15
Dumbbell Pullover
   3-4
   15-20
                                   Back
Chin Up
   5
   12
Bent Over Row
   3-4
   10-15
Barbell Deadlift
   3-4
   6-10
Wide Grip Pullup
   5
    15
T-Bar Row
    5
  10-15
Crunches
    5
    25
Shoulder Workout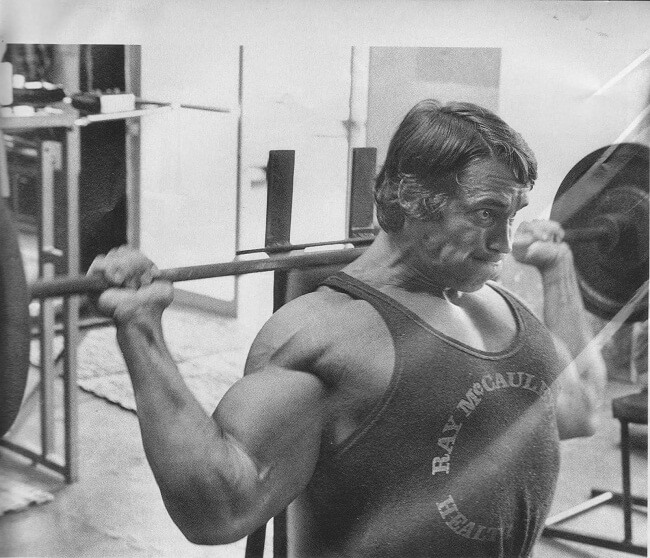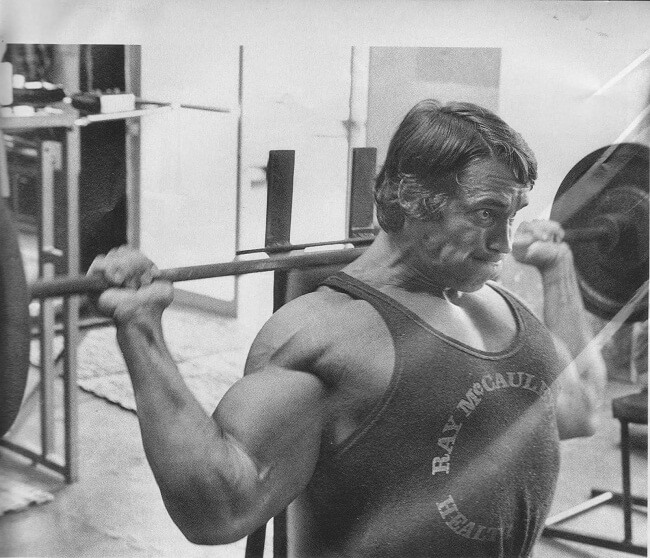 Before going to any further discussion here we have shared the Arnold views regarding shoulders workout as he has stated during his interview.
He stated that:
"A man with wider and broader shoulder always feel superior which generate the great sense of security and confidence inside them".
During his bodybuilding career, Arnold was dedicated in developing the upper body part as it was weakest aspect among the other body part.
After occupying the winning title of Mr. Universe in the year 1967 in London, he utilized his large part of victory in developing the upper body part such as shoulder.
Three years later, in the year 1970 he again participated in the Mr. Universe contest and this time he again get succeed by beating one his idol Reg Park. And regarding this auspicious and memorable moment he wrote that he was very much thankful about his dedication to achieve his shoulders hard.
The future California governor acknowledged that taking the example of Arnold he tried to explain that there are some individuals who are being possessed by the special genetic characteristics howsoever it doesn't mean we have not caliber or capability to achieve the best ion the desired area.
As Arnold has worked hard in order to gain wider shoulders that is because developing the shoulder by at least 2 inches through training is not an easy task.
Arnold's Shoulder Workout
  

Exercise

  Sets
Rep Goal
Barbell Clean & Press
1
20-30
Military Press
3-4
10
Arnold Press
5
6
Dumbbell Lateral Raise
3-4
10
Upright Row
3-4
10
Lying Lateral Raise
5
12
Bentover Lateral Raise
5
8-10
Legs Workout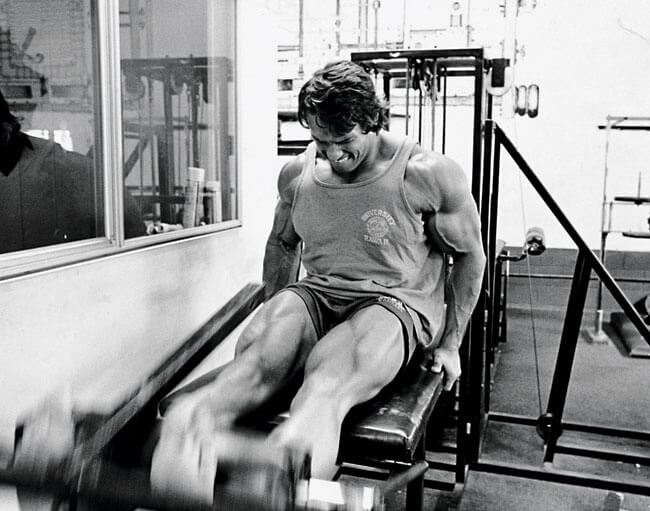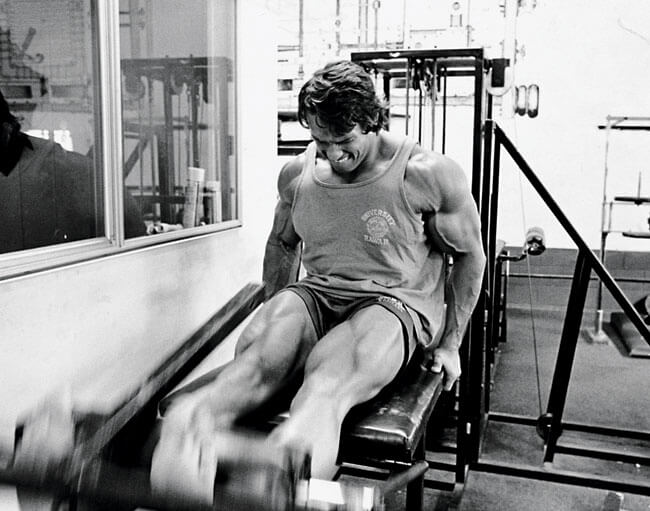 During his early days, Arnold was suffering from the two critical diseases while performing leg training are Disuse and primitivism.
Because of such injuries the young Arnold left his legs training for a year.
However after a year finally, after knowing the importance of lower body he decided that he will work hard to overcome such weaknesses.
Although he started the training with 10 sets of leg curl and 10 sets of squats every day. And surprisingly soon he started getting satisfied results from those exercise.
Workout is too much connected to his daily timetable as Arnold starts squat since morning till afternoon and the rest, party, chill and at evening again back to squatting.
When Weider (Bodybuilder) get to know about the Arnold's suffering then he stated his views by seeing bulky and lacked legs of Arnold.
"Suffering from such weaknesses, it is most important that Arnold must be change his leg training".
Howsoever Arnold agreed with Weider's statement says that:
"He also had not imagined that it will happen, as other may noticed this odd effect and get puzzled".
Finally Arnold decided, that he will changed his legs training and he have done so and helped him in winning 7th Mr. Olympia titles.
Here we have mentioned Arnold latest type of leg workouts.
Arnold's Legs Workout
| | | |
| --- | --- | --- |
| Exercise | Sets | Rep Goal |
| Barbell Squat | 5 | 8 |
| Lying Leg Curl | 8 | 10 |
| Front Squat | 5 | 8-10 |
| Lunge | 4 | 10 |
| Leg Extension | 5 | 10 |
| Leg Press | 5 | 10 |
Triceps Workout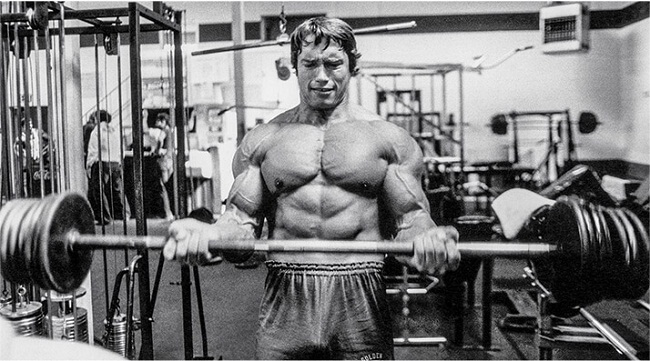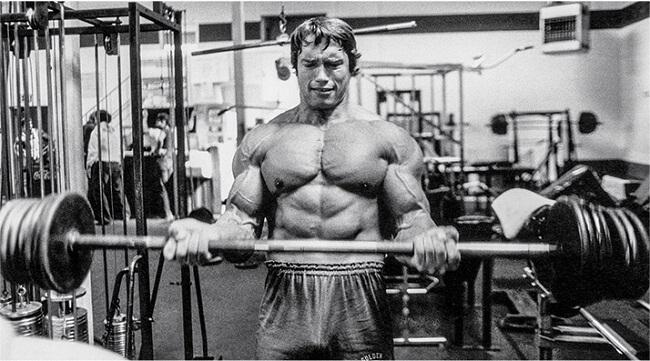 Arnold rarely focused in enhancing muscles of biceps and triceps, mostly during pre- contest training for the several events. The idea of training opposite muscle was firstly recognized by Weider but Arnold has applied that and have beliefs regarding the benefits of training opposite muscles.
During pre- contest training, Arnold undergoes the tortures of biceps and triceps repeatedly four times each. In order to gain muscle mass he used to perform such exercises twice a week and sometimes thrice in week.
During one of his article titled, "How I Built My 22½ – inch Arms".  Where he has wrote few words for all non-beginners in which he is asking to use a trial of Arnold's arm- growth training program just twice- a –week and let see how it will benefits the non- beginners.
In most of his career, Arnold used to trained arms at least two to three days per week with high volume.
Arnold's Triceps Workout
| | | |
| --- | --- | --- |
| Exercise | Sets | Rep Goal |
| Dumbbell Kickback | 5 | 6-8 |
| Close-Grip Bench Press | 5-6 | 6-8 |
| Triceps Pushdown | 6 | 6-10 |
| Lying EZ-Bar French Press | 5-6 | 6-8 |
| Cable-Pushdown | 5-6 | 6-8 |
Biceps Workout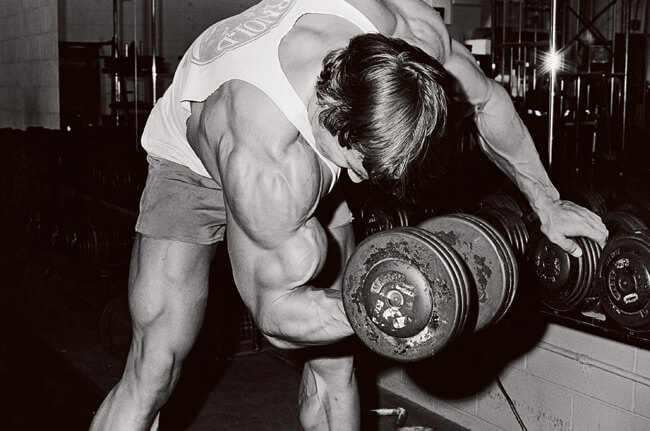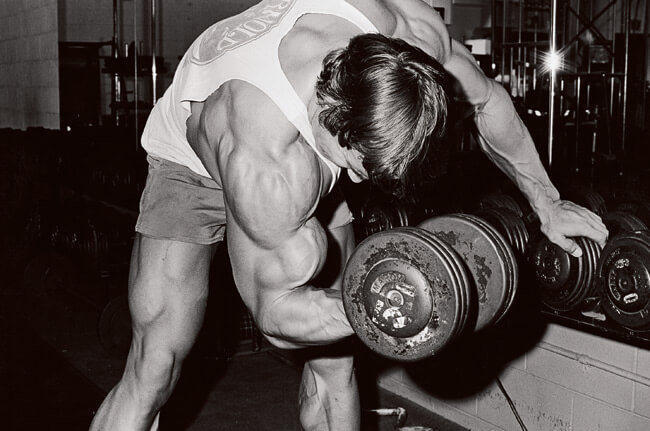 After getting inspired by seeing the photos (Park in the German magazine Der Muskelbilder) of one of his idol Reg Park, Arnold started visiting to gym as a teenager.
During his childhood the young Arnold love to watch the gym- goers and from seeing them he inspired and used to perform those workouts such as lifting heavy weights at home with his friends.
Shockingly, when Arnold landed in America he'd never at any point seen a minister seat—a device he'd soon come to utilize religiously (no play on words expected) to manufacture biceps that would outperform those of antecedents Larry Scott and Sergio Oliva.
He likewise found that American jocks prepared all the more systematically and had a firmer comprehension of life structures and physiology than he.
In spite of as of now having a Mr. Universe title and two of the greatest arms on the planet, he believed he could improve the situation.
"I wasn't achieving my fullest potential," he said years after the fact. "The profound strands of my muscles were untouched. I had manufactured a vast expanding over an establishment of sand."
He watched Scott prepare and being "especially entranced watching him bomb his biceps on a twisting machine. His arms looked awesome and thick after preparing." Despite the huge bumpy biceps crest Arnold created, we can firmly say it's not a tumor.
Preparing TIPS
Arnold wasn't hesitant to undermine arms works out, particularly standing twists. He felt that going for an extensive workout was the most ideal approach to increase measure, and if a little body English was required to get the weight up, so be it.
To accomplish full improvement, Arnold constantly incorporated into his routine no less than one exercise, (for example, a dumbbell twist) in which his palm turned up (supinated) as he lifted the weight.
Even however biceps are a moderately little muscle gathering, Arnold ordinarily prepared them at about an indistinguishable volume from greater body parts, and with the heaviest weights he could oversee.
Arnold's Biceps/Forearms Workout
| | | |
| --- | --- | --- |
| Exercise | Sets | Reps |
| Barbell Cheat Curl | 6-7 | 6-8 |
| Incline or Seated Dumbbell Curl | 6-7 | 6-8 |
| Preacher Curl | 6-7 | 6-8 |
| Concentration Curl | 5 | 6-8 |
| Barbell Reverse Curl | 5 | 8-10 |
| Reverse Preacher Curl | 5 | 8-10 |
| Barbell Wrist Curl | 7 | 10 |
Abs Workout
Arnold's midriff wasn't, of course, his solid suit. He didn't have a normally little midriff, nor did he have the largely carved six-pack of a Frank Zane or a Serge Nubret. Be that as it may, his huge abs weren't a glaring shortcoming, either.
Maybe that was on the grounds that he was an ace of trickery. Take a gander at shots of him posturing and you'll see that he would frequently contort his abdominal area such that he'd wind up confronting the camera or the judges paying little mind to the stance.
This gave him the presence of having a littler midriff, and was a critical technique for him in rivalry.
He additionally opposed any hereditary weaknesses by embracing an amazingly high-volume routine comprising of numerous activities and bunches of reps.
Moreover, he recognized that eating clean assumed a noteworthy part in limiting fat in his abdomen region, which enabled his abs to appear on the other side. That his vacuum posture wasn't exactly Zane-like wasn't for absence of exertion or enthusiasm.
Arnold considered the midriff a standout among-st the most basic parts of the male build, referring to the chiseled abs of Greek divine beings as his motivation. "In physical make-up rivalries, if your stomach locale has a slight layer of greasy tissue on it," he once stated, "you should disregard bringing home a trophy."
Preparing TIPS
Arnold felt that stomach work ought to be done each day. He was even known to prepare abs twice every day when he needed to have a detectable effect in a brief timeframe.
Arnold's sideways preparing comprised basically of controlled winding movements while holding a bar over his shoulders. He was mindful so as to stay away from weighted slanted crunches, for fear they would develop muscle around there and make his waistline greater.
He typically prepared abs toward the finish of his exercise, after calves—the other body part he felt required more incessant preparing to goad the essential improvement.
Arnold's Abs Workout
| | | |
| --- | --- | --- |
| Exercise | Sets | Reps |
| Hanging Knee Raise | 3 | 25-50 |
| Roman Chair Situp | 4 | 25-30 |
| Lying Leg Raise | 3 | 25-30 |
| Side-to-Side Twist | 3 | 50 |
| Back Extension | 3 | 15 |
| Seated Leg-Up | 4 | 25-50 |
Calves Workout
Arnold's hesitance about his calves was all around plugged throughout the years. They used to be very little, therefore he decided cut the bottoms off his warm up pants while he prepared to uncover them.
This spurred him to enhance the zone, which he did at last by building massive and soleus muscles. High-volume and EXTREME workout were his keys to raising this huge muscles; however it was significantly more than that.
Arnold appeared to be more intellectual when it came to calf preparing. This is what he needed to state in a past issue of Muscle Builder:
The calves resemble no other muscle, and consistently they appear to have an alternate state of mind.
Some of the time I can do calf raises with shoes on and it can rest easy, at that point different circumstances the shoes act as a burden and I need to do this activity with my exposed feet… It's peculiar, sort of otherworldly or strange.
"A mystery I learned is to test the calves' identity or mentality with a few sets, at that point I know which way they need to go that specific day. The calves will tell you—simply allow them to 'talk' to you. [It's] relatively like they have their very own psyche—a mind that alternate muscles don't have."
Preparing TIPS
Arnold cherished collections when it comes to calf preparing. Anything that would stun the hardheaded calves was reasonable diversion: high reps, low reps, super short rest periods (15– 30 seconds), supersets, and so on.
His calves practices generally took the calves through a full scope of movement (down for a full extend), at that point up till they were almost confined.
In any case, now and again he likewise did full arrangements of halfway reps, which enabled him to go significantly heavier; or he'd complete off full-scope of-movement sets with a couple of partials to consume the calves out.
It wasn't remarkable for Arnold to prepare calves six days seven days in his well-known twofold split preparing plan. Calves were normally prepared with abs in an evening exercise, either with quads or all alone.
Arnold's Calves Workout
| | | |
| --- | --- | --- |
| Exercise | Sets | Reps |
| Donkey Calf Raise | 5 | 15-30 |
| Standing Calf Raise | 5 | 15-30 |
| Leg-Press Calf Raise | 5 | 20-30 |
| Standing One-Legged Dumbbell Calf Raise | 3 | 15-30 |