While watching Oscars this year, I think I'm not the only one who noticed one thing very particularly.
This year besides from Melissa McCartney's now-iconic Adidas tracksuit, there was one more thing which was genuinely distracting everyone watching the award show. And that was Brie Larson arrival.
I guess I might or might not have experienced a full-on jaw-drop, but I remember very clearly that I was completely unable to take my eyes off Brie's ridiculously toned arms. And I think that was the case with everyone their that time.
This Brie's complete body transformation was actually the result of her movie 'Captain Marvel' in which she played the title character.
This titular role of Captain Marvel is really physically demanding and she's just totally badass in it.
For this movie, She had played SuperHero for the very first time in her life.
Playing a superhero do requires real-life superhuman strength. Since a superhero is required to do things like hip-thrusting 400 pounds, pushing a Jeep for an entire minute, and cracking out weighted pull-ups.
Brie Larson tackled all these athletic feats after nine months of training for her role as the titular character in Captain Marvel, which released March 8, 2019.
This movie 'Captain Marvel' marks the very first female-led superhero film produced by Marvel Cinematic Universe.
For this movie, Larson genuinely took the history by making the gig and its requisite prep very seriously.
Larson Brie has opened up completely about how she got trained for the role and how she digs deep.
Brie said,
'I will say that I learned or believed I'm much stronger than I realize in playing [Captain Marvel]'.
Brie said she got training for nine months to build up her physical strength before started shooting for film 'Captain Marvel'. As a result, she became a total powerhouse at the gym after it in which previously, of course, she was not very much interested or expert.
Larson herself admitted that she wasn't very much into the gym before Captain Marvel – but that all changed as she trained for the role.
Brie said, "I just wanted to be a brain, so I've only cared about reading books and understanding words, and anything that involved my body made me itchy". "But this was an opportunity for me to make my body mine".
Brie Larson for her role Captain Marvel got trained from Jason Walsh, who's an expert in body transformations for actors. After tackling stars like Matt Damon, John Krasinski, and Miles Teller, Walsh gave Larson a 9 months hardcore regimen to make her feel as strong as Carol Danvers.
Walsh on Brie once said,
"Brie came to me, and the good thing was we had 9 months.  Her character is very very physical and so we needed her to be super resilient, super strong so that she can recover from this and not risk shutting down production".
Jason Walsh Training To Captain Marvel
Larson's trainer Jason Walsh while her training for Captain Marvel mainly aims at making her extremely strong and resilient.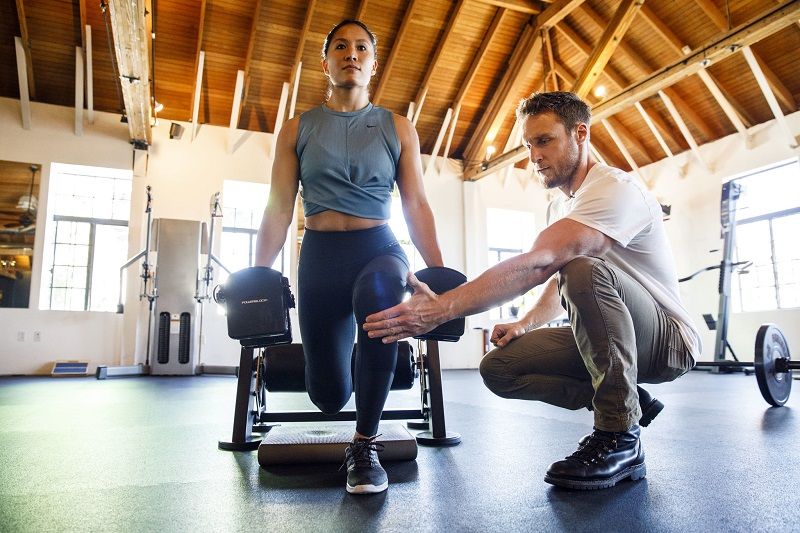 While developing a training plan for Brie Larson, the primary goals were building up strength and resilience, so as to help the actor tackle her superhero stunts confidently, effectively and safely, Walsh said in an interview.
Walsh further said, "When your body functions properly, and you're strong enough, it's the best feeling. It changes everything in your life – your confidence level, your psychology and the way you approach things."
The trainer added, "Building said strength is an important part of character development. If you're going to play a superhero, the character building starts with what we were doing". "You've got to believe that you've strength."
According to Walsh,
Being strong lowers an actor's risk for injury during stunts and fight scenes. An injured actor might shut down a film's production. So, for an actor its important to be strong and have control over self-body.
Walsh on Larson said,
"I really feel good sending [Larson]" off doing stunt work knowing that she is going to stay highly resilient".
Upon asking about Larson's workout, Walsh walked us through one of their typical training sessions and demonstrated in brief how he exactly helped out Larson transform from a cerebral actress into a pound Instagram fitness maven.
He said, "Brie worked out 5 days a week with me pretty much the whole nine months".
Trainer further added, "She worked her ass off to get into shape for this movie Captain Marvel".
Wanna give the program a try, follow the notes below.
Don't ever get afraid to adjust the loads and weights to fit your own training level. Besides from this, always keep remembering one thing that you cannot ever take on the routine just because Larson is a woman. She got a pound for pound as strong as any guy I know, Walsh said.
Brie Larson Workout for Captain Marvel
The Warmup
Full Body Foam Roll
1 to 3 minutes in each position.
World's Greatest Stretch
5 to 6 reps per side
Activation Exercises
This moves mainly aims at getting the muscles which support your spine full activated and all set to perform.
Half-Kneeling Band Rows
2 sets of 8 to 10 reps
Bench Y-T-W Raise
1 set of 10 to 15 reps for each motion
Medicine Ball Slam
2 sets of 10  to 15 reps
Primary Exercises
Walsh named this section the 'meat and potatoes' of the programming.
On this particular Brie Larson workout program, Walsh said, 'This is the body working, recruiting every single muscle, multi-joint movements'. "This is where you get the most out of your workout".
Landmine Deadlift
3 sets of 8 to 10 reps
Single-Leg Landmine Deadlift
3 sets of 8 to 10 reps per leg
Eccentric Bench Pushup
2 sets of 8 to 10 reps
Weighted Pushup
2 sets of 8 to 10 reps
You can make use of these chains to get the dynamic load. However in case if you don't have any on hand, you're required to place a plate on your back to add up weight.
This might help you with your form – if the plate moves and slides, you're required to squeeze your core more for keeping up your spine straight.
Isometric Pushup
2 to 3 sets of 3 to 4 10 second hold at each position
Dumbbell Total Body Complex
6 reps of each movement
Upright Row
Snatch
Push Press
Bent-Over Row
Snatch
Chin up Series
Isometric Chinup Hold
2 to 3 sets of 3 to 4 10 second holds
90-Degree Chinup Hold
2 to 3 sets of 3 to 4 10 second holds
3-Step Isometric Chinup
2 sets of 2 to 3 reps
Assisted Eccentric Chinup
2 to 3 sets of 8 to 10 reps
Assisted Chinup
2 to 3 sets of 8 to 10 reps
Full Chinup
2 to 3 sets of 8 to 10 reps
So, this was all about the Brie Larson Body Workout for Captain Marvel.
Now to inspire you more with the Brie Larson Workout, we thought to provide you with some glimpse of her workout.
Yeah…. so here have a look at Larson's Workout:
Firstly, have a look at these chin-ups!!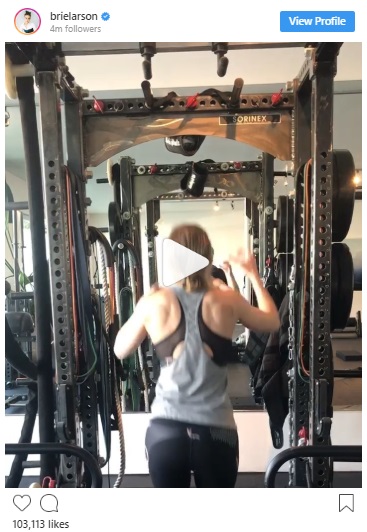 Now here is her exercise band in hand, giving a serious shoulder strength inspiration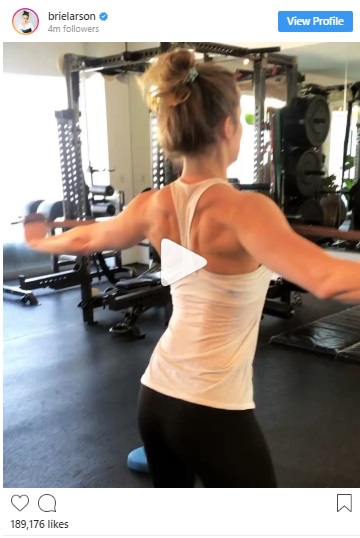 An ab workout which will put yours as well as mine to shame forever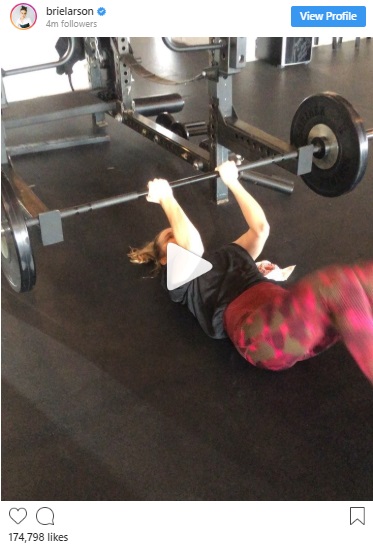 Now with a 12-pound medicine ball thrown in nbd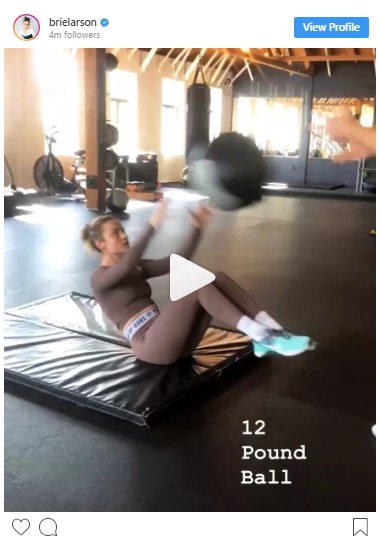 And of course, for a role like Captain Marvel, normal push-ups aren't just enough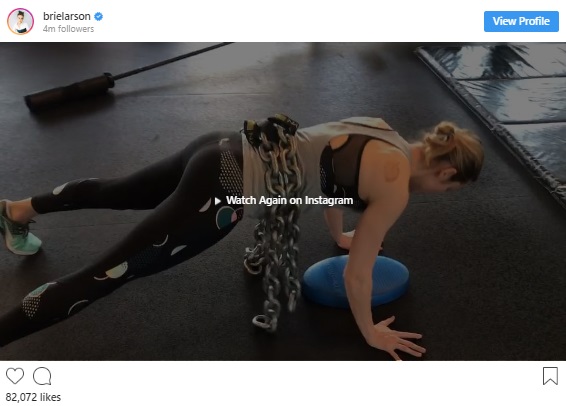 Yeah… and now it looks like Captain's taking some cues from Thor with this sledgehammer technique…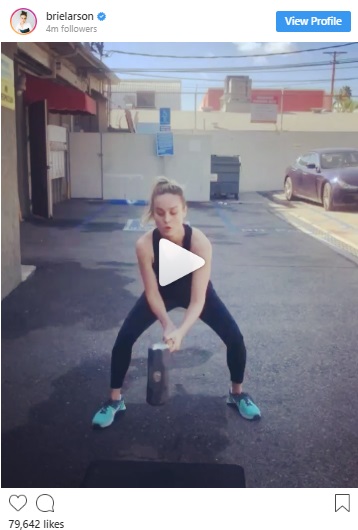 The list has till yet not came to end.
The actress got her whole lunge game down pat…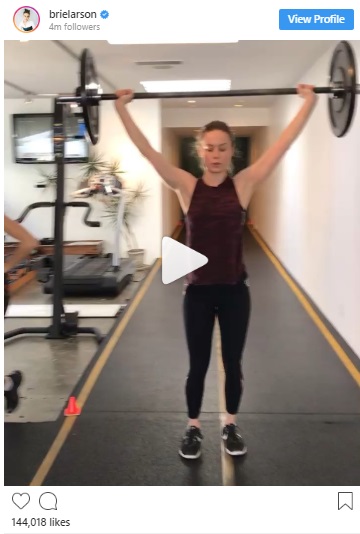 And those hip thrusts…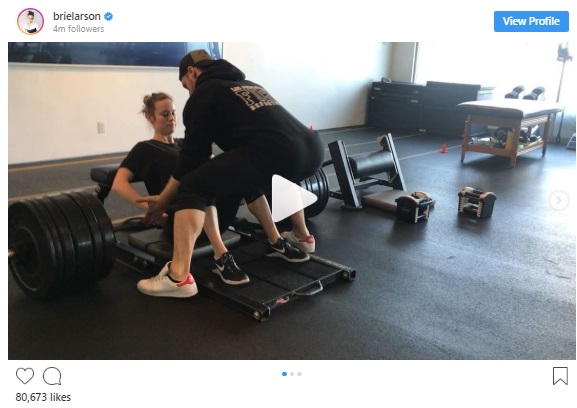 She often mixes the whole things up and just opts for some casual bouldering!!
Yes and some boxing: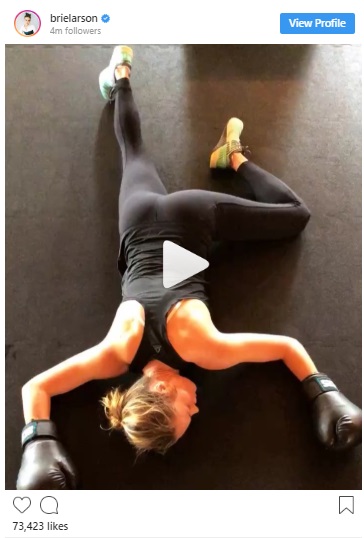 Cap'n on the flying trapeze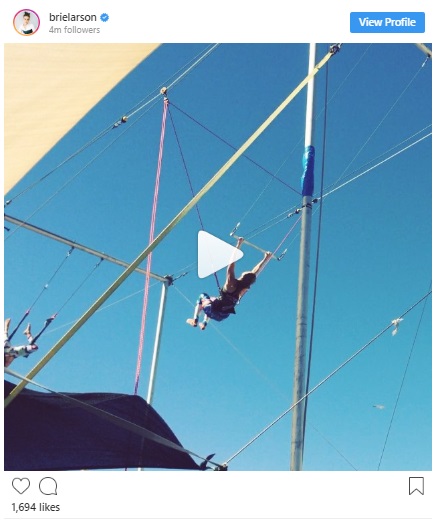 This was all about Brie Larson workout for Captain Marvel.
Hopefully, the blog briefing Brie's workout inspired you and you enjoyed reading it!!
For some sort of inspiring blogs on other celebrities, keep visiting us.
Yeah… and one more thing…
Jason Walsh, Brie's trainer is offering a free two-week program based on how the star got in superhero shape.
So, you can go for Brie Larson Captain Marvel Workout App also!!
Thanks…
Other Celebrities Post You Might Refer Reading:
Chris Evans Body Building Formula for Captain America