This has been a problem for skinny people to gain weight and have a high metabolic rate. They go through every tips and tricks and experiment them to gain good weight. But the outcome is not exactly what they want.
Building mass, gaining weight along with high metabolism is little arduous and time consuming task especially for skinny people.
In order to put on weight, you spent more than an hour in the gym and start using weight gaining supplements, but nothing works.
I know how you feel being skinny and not getting appropriate results even after spending couple of months in the gym doing hard work and other health supplements. You lose your patience and feel like giving up on everything.
Well, there is good news for all the skinny guys out there! You can easily put on weights and also have high metabolism.
This is really a matter of concern especially for men who are skinny because a man should have a good weight and physique to look attractive. But, those who are not and lack all these features must not worry.
We have come with some useful tips for you to easily gain weight and have a good metabolism like the guy in the picture below…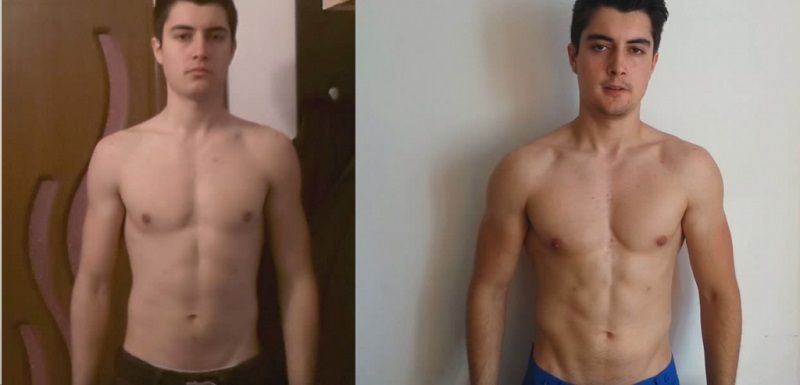 Without any delay, let's see how you can gain weight and have a high metabolism.


10 Important Tips to Gain Weight with High Metabolism for Men
Eat more
You are required to eat more than you burn calories. If you want to put on weight then you need to eat more in proper way and have to burn less calories. As rule of thumb, a person must consume more calories than one's body burns every day.
Eat meals more often
Eating heavy but less is not at all good idea to put on weight. In fact, it only makes you full rather than providing good amount of calories. So eat small meals instead of big meals. Wake up early and have 3-4 meals a day but light meal. Read: Bodybuilder Brandan Fokken Bulking Meal Plan and Diet!
Do not binge on unhealthy food
When it comes to put on weight along with good metabolic rate then it is very important that you restrict your hunger towards junk foods.  Though you will gain slight weight while eating junk foods but in a unhealthy way and could end up with cholesterol problem.
Consume energy rich foods
Energy rich foods are a good source of calories for someone to gain weight. The more food rich in energy, more will be the pack of calories. Foods that are rich in carbs or fats are known to serve better in providing calories. These types of foods generally take less eating in order to create caloric surplus.
So energy dense food includes:
Dry fruits
Dried fruits and milk smoothies
Poached or boiled eggs with wholegrain toast
Yoghurt
Peanut butter with bread
Rice puddings
Hummus and pita
Flax and chia seeds
Unsalted nuts
Baked potatoes with its coverings
Corn and peas
Tuna based salads but not watery and lettuce based salads
Eat more proteins
Proteins are considered as another important ingredient for building up muscles and making them strong. It helps in quick recovery of your body from workouts and helps them to grow bigger. An average recommended intake of protein is 0.8 grams per Kilogram of a person's weight. So if you intend to grow muscles, you have to work with your protein diet. Click to read What is the Optimal Protein Intake for Muscle Mass?
Do not eat salad first in the meal
Before you consume salad, eat energy rich foods and muscle building protein. It is very important to maximize the intake of your calorie with each meal, if you really want to gain weight with high metabolism. It will help you build muscle and power your workout.
Go for liquid diet
Foods that are blended digest more easily than solid food. Another benefit of going liquid is that it does not make you feel lazy and full. So you can have blended foods like banana shake mixed with milk, oats, peanut butter and whey protein.
Track your intake of calories
Skinny people generally over-estimate the intake of their food. They think that they eat excessive but actually they don't. For skinny people, it is important to have a track of your meal and have enough of food to gain weight.
Be consistent
It is wrong to eat a lot today and then rest for a week. This is not going to work if you want to put on weight. You must consistently eat and consume more calories than you burn in order to increase body weight.
Lift heavy weights
As you are aiming to gain weight and have high metabolism then doing cardio activities like swimming or running can be futile. Any type of aerobic or cardio activity burns more calorie than you intake. In contrary to this, lifting heavy weights will help you build muscle and get a high metabolic rate. For optimal results, follow few exercises routine regularly to get high metabolism rate and good weight.
Deadlift
Pull up
Barbell lunge
Standing shoulder press
Bent over row
Chest press
Want to learn more?
Here's a YouTube Video on how to gain weight with a fast metabolism.
Checkout to watch now!
Summary
In order to gain weight easily and want to have good metabolism, you need to follow a healthy lifestyle which is very necessary for a good health as well. However, the above mentioned tips will help you gain good weight as well as maintaining good metabolic activities of your body.
Being skinny is not a result of your metabolism. It can be due to certain health problems like stress, depression, hyper-tension and so on. In such situation, you first need to consult a doctor so as to cure your health problems. Then you can start to follow our guidelines to gain health and maintain metabolic level of your body.
So guys! Don't fool yourself to think that you cannot build muscle and gain weight. You can absolutely put on weight with fast metabolism. All it takes is a little planning and your core dedication.
With these easy and simple tips, no need to stay skinny any longer. So guys, start your workout now!