Ryan Joseph Braun, an American baseball left fielder who is nicknamed as first baseman for Milwaukee Brewers of Major League Baseball (MLB). Being a left fielder, Ryan also played as right fielder during his career and remained a third baseman during his rookie season.
It was sad when the news became public that Milwaukee Brewers star, Ryan Braun tested for positive against PED test. He himself admitted that he used PED (performance enhancing drug) in 2011. Not only that, he lied to everyone and told them Major League Baseball's drug program was fake. It was fatally flawed.
Check out comments here
He told, MLB officials had a personal clash with him. On Thursday night, Braun was found admitting and apologizing for his one and half years past lies. He was found guilty and asked everyone to believe him this time. He then admitted that he took steroids during his game, NL MVP season in 2011.
He was in denial for a long time where he tried to convince that he had done nothing wrong. But there was certainly no excuse for this.
The suspended Milwaukee Brewers player said that he just took an anti-inflammatory cream and lozenge contained substance which is banned for use to rehabilitate his injury and this turned out to violate the drug policy of MLB.
In one of his carefully written statement, he wrote, "it was seriously a big mistake for which he was deeply ashamed and just compounded the situations by not admitting his mistakes promptly".
Braun swore that substance was simply taken to recover from upper calves and lower hamstring injury and further added that, "he was actually dealing with consistent injury and so turned out for some product which he should not have used".
He was tested positive for testosterone in October 2011 but fortunately his suspension to 50-game was cancelled by an arbitrator who told that urine sample was botched.
Whilst the Braun took all the responsibilities for his actions and apologized to the urine sample collector, the teammates and commissioner Bud Selig, some several key questions remained unanswered.
The questions in the statement that remained unanswered was that 'who gave PEDs or steroids to Braun and where it came from?', 'What actual substance the product contained?', 'did he already know that the cream and lozenges were tarnished when he used them?'
Meanwhile, he knew that even though he had apologized, it might not be enough for some teammates, peers and fans.
Cincinnati Reds Homer Bailey once told to Dalton Daily News, "Once a liar will always be a liar. Particularly, when you lie to those people who backed you up all the way, you are damn in a bad territory".
Last month, Braun had to accept 65-game suspension which was a result of Major League Baseball's investigation of now-closed Biogenesis anti-aging clinic in the United States where players were cited to provide prohibited substances to players.
He then came forward and surrendered all his rights to appeal for any sanctions against the allegations that were going to be imposed. He said, he knew that he was making correct decision taking his first step in the right direction.
In the statement, he said, it was very important for him to begin the suspension quickly as possible in order to minimize the burden on everyone he had so far negatively affected which included his teammates, entire Brewers organization, fans and all of MLB.
Braun was among those first 14 players who were disciplined the same year as the result of Biogenesis investigation. In the initial meeting with MLB investigators aimed to discuss Biogenesis, Ryan Braun simply denied to answer their questions. Later on, as per his statement, he admitted his guilt in the second session with MLB and discussed a penalty.
In the late June, after his interview with MLB, Braun said that he had now realized that it was high time to come with truth. Though he was never ever presented with MLB's evidence against him but now he didn't need it as he knew what he had done.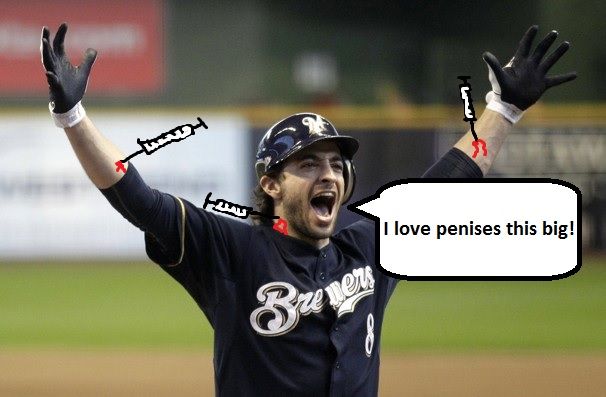 Dino Laurenzi Jr., the Drug collector, collected the samples of Braun and other two players at home and then dropped the samples at the Federal Express Office on Monday instead of sending them immediately as per the specified baseball drug collection rules. To this players' association argued that the collected specimen was mishandled.
During 2012 press conference the next day on the field at Milwaukee's spring training stadium in Phoenix, Braun announced that he was proved to be right and after that his lawyer then criticized Laurenzi when he tried to defend himself.
Now that, Ryan Braun specifically apologized to Laurenzi. Ryan in his statement said, he has no one to blame but himself. He knew that over last year he had committed some serious mistakes in both which included wrong information intimated during his arbitration hearing and comments made to the press then after.
He deeply regretted for many things he said at press conference and that in his public comments. He said, he just didn't want to believe that he used prohibited substance.
Braun told that he disappointed everyone who were close to him, the ones who fought for him because they had deep faith in him. He kept truth from almost everyone. After that, he accepted his suspension for 50 games for drug infraction and 15 games for misconduct at the time of grievance on 22 July.
The Detroit pitcher, Max Scherzer said, Braun never came clean when he got caught and always try to question the ability of collector on being caught red-handed. So that was all Braun situation and so many players were outraged towards him.
Eventually, Braun came up with the truth and accepted all the allegations imposed against him for using steroids in his games. He said that nothing matters to him what other say. Let the penalties laid down so that he could move on.
For More Reading