Julian Edelman facing four-game suspension for PEDs
Julian Edelman, is an American football wide receiver as well as punt returner plays for New England Patriots in the National Football League (NFL) is facing four-game PED (performance enhancing drug) suspension.
The 32 years old wide receiver, participated in mandatory mini-camp practice session this week.
And Just after finishing the third mandatory mini-camp practice session of the New England Patriots, ESPN's Adam Schefter go for twitter to drip a bomb on Patriot Nation that Edelman is going to face four-game suspension for violating the NFL's policy on PED use.
When this news broke Alex Guerrero, the trainer who is well known for his work has released a statement that he is very much disappointed and he had never allowed of using any banned substances.
Julian Edelman Stats
Julian Edelman has a bigger body of work that shows his impact. He is always ready to give hits.
Since 2009, Julian has 81.8 win percentage. He also owns the Patriot's franchise record for receptions in the playoffs with 89. He is third in the NFL history.
Moreover, since 2009 Julian leads the NFL in receptions, targets and first downs in the playoffs based on the reports of ESPN Stats & Info. Edelman has topped 100 yards four times in the last six playoff games.
Edelman also was second with 28 catches and led the NFL in third-down receiving yards (431), noted by The Boston Globe's Ben Volin. This not lasts here, Edelman has 397 receptions.
A quick look on Julian's stats

Alex Guerrero Release Statement Following Edelman Suspension
Guerrero said, "I have known Julian since his rookie year and he is a phenomenal athlete who always take his training seriously, and it's disappointing to hear this news."
Guerrero further added that few times elite athletes work with the multiple coaches and also health professionals considering as a part of their intensive training.
He said that they always preferred holistic, natural, appropriate and legal approach in training and recovery of their players. And if anyone suggest irresponsible way, then he say just plain wrong.
Guerrero is also trying to suggest that Edelman would have used steroids from other coaches or health professionals. And in directly he want to say that he would not bear any blame related to Edelman's suspension.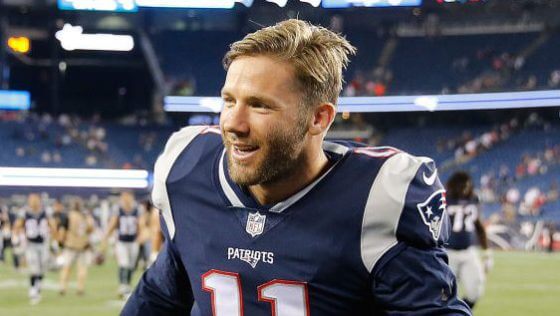 Perry Craz Twitted Statement
Perry Craz has recently twitted regarding Julian four game suspension, "I am convinced Julian Edelman is on steroids…somebody test that cheater@NFL."
In spite suspension holds up, Julian is able to participate in the team's preseason and off season workload. However, he would be unavailable for the four games including the road games against the Detroit Lions and Jacksonville and home game against Miami Dolphins and Houston Texas.
At this point, it is notable that Edelman is now become somewhat as a Tom Brady's personal trainer that is Alex Guerrero.
Edelman is the first player to get caught in the steroids allegations under Guerrero's watch. Brady has a true belief that he has done this by considering his past in term of Edelman's medical background.
However, Edelman non-conventional approach toward medical treatment has drawn the attention of many people in medical world.
NFL's Performance Enhancing Drug Policy
Julian Edelman is recently facing costly suspension for violating the NFL's performance enhancing drugs policy.
So what is that Policy?
All the players are strictly banned from using steroids or any performance enhancing drug.
Supplying this to the others players is also banned.
Trainers, coaches and others are barred from condoning as per policy.
What's Going On With Julian Edelman?
After being slapped with a four game suspension by NFL earlier this offseason, failing for a PED test, Julian Edelman appealed for league's punishment. But the appeal was denied, revealed earlier this week and pass catcher banned for the first month of the season.
Edelman is allowed to practice and play in the preseason along with being with the team all through the training camp. Once switching to regular season, Edelman's suspension will kick in and will stay away from team facility for a month.
Julian will be allowed to return to team the next day on October 1st. Julian Edelman does have option to continue his fight. He could further battle the league and bring it to court if his legal representatives believe that he could make a strong case.
Actually, it was revealed that the substance Julian was tested positive for, wasn't immediately known.
Relating it to Patriots, there is one risky side for Julian which is it may cause delay in his suspension and give him a chance to play the first four weeks of 2018 season. But if he loses in the court, he'd have to give the suspension immediately.
Therefore, fore now Edelman is scheduled to return for week 5 and for New England which means a Thursday Night Football matchup with Colts such that the veteran pass catcher won't have enough time to get caught up to speed before it's game time.
Julian Edelman Instagram
A day after Julian Edelman told reporters that he's "definitely accountable" for violating NFL's policy. He took to social media to those who are affected.
On Saturday, Julian said, "it's typically very disappointing with the penalty and the findings." Julian, on the following day, apologized on his Instagram account after earning a four-game suspension for a violation of the NFL's performance-enhancing drug policy. He wrote,
"My deepest apology to my family, friends, peers, coaches and fans… I can't thank Pat's Nation enough. It inspires me to go out and work harder for you guys. Remember, tough times don't last, tough people do."
Julian also stood by trainer Alex Guerrero noting, "What's in the past is in the past."
Conclusion
So, there is no doubt that Julian Edelman has used steroids which leads to four- game PED suspension as because he has violate the NFL's performance enhancing policy. And if any players would fail to follow this policy they are strictly penalized.
So, this was all about Julian Edelman and his PED suspension.
Now with the proven fact that Julian has made usage of Steroids, one thing becomes even clearer that steroids are the one which genuinely work in bulking up muscle mass and providing one with incredible power to enhance the workout performance.
This is the reason why these legal steroids are highly popular among athletes, lifters and body builders.
So, if you also belongs to those who wants bulky muscles and ripped body, here we would like to recommend you to go for these legal Steroids.
These legal muscle building steroids are the ones which though mimics the efforts of steroids, but only the positive ones. Means without the involvement of any health risks, which are associated with those of steroids.
So you can also use these legal steroids to enhance your workout performance, build up muscles and lose fat in a far better way.
Trending Now
Peyton Manning Steroid (HGH) Investigation: Latest Findings & Reaction