Winter is the bulking season! The entire colder months are the best time to put on more real good lean muscle on. However, this can only be possible with the right Winter Diet Plan For Bodybuilding.
As the cold weather creeps in, bodybuilders look forward to gaining some more muscles on. So, this is your time to get it right and get your muscle building to a top-notch level.
The nutrients you get from meals are much more than just making you look good. Having the right meal will maintain your muscle mass and help you gain more lean muscle.
Some gym freaks use winter as an excuse to put on pounds with comfort meals like pizzas and pastries. Actually, this can affect their performance seriously, even if it does help you gain muscles.
This is because they lack the vital micronutrients which are essential for overall health and nourishment.
To help you out with this, here we have shared a complete Winter Diet Plan For Bodybuilding. However, first of all, we would discuss the key meals, meals option for different timing and lastly 5 day Bodybuilding bulking diet
Key Meals for Winter Diet Plan For Bodybuilding
Evidently, some of the best food to eat this winter is, of course, warm and wholesome. However, if they are taken as with the regular ingredients they can end up unhealthy.
This won't add any benefit to your health. However, they can be easily swapped for a healthy alternative. So, let's check out some of the key meals for your Winter Diet Plan For Bodybuilding.
#1:

Chili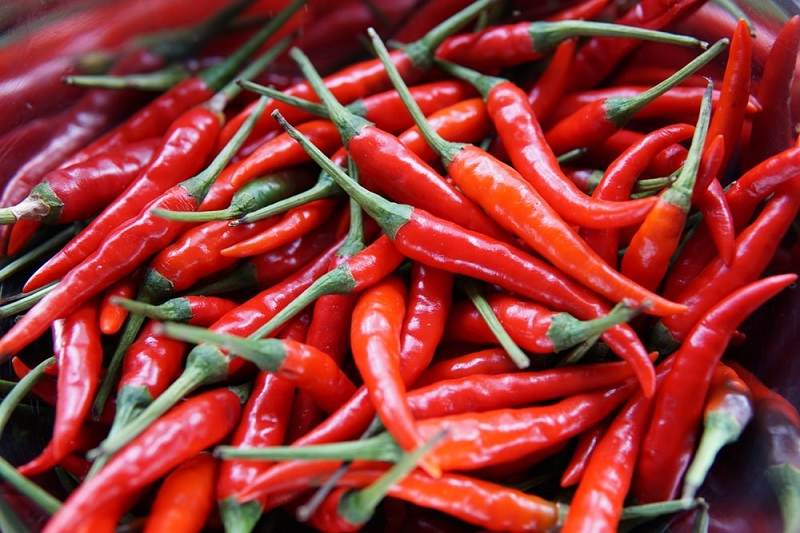 The year-round favorite is best for winter, a Chili is a great option for massive muscle building. You can make a number of meals with it. You just need to accompany it with protein-rich ingredients such as pinto beans, veggie mince, red kidney beans, or mince.
Stir up chopped tomatoes, spices, red peppers and your chili ingredient in a big pot. Toss all the ingredients and you will get meals that would last for a week. You can add plenty of fresh chilies to provide you with winter warmth kick.
#2:

Chicken And Chickpea Curry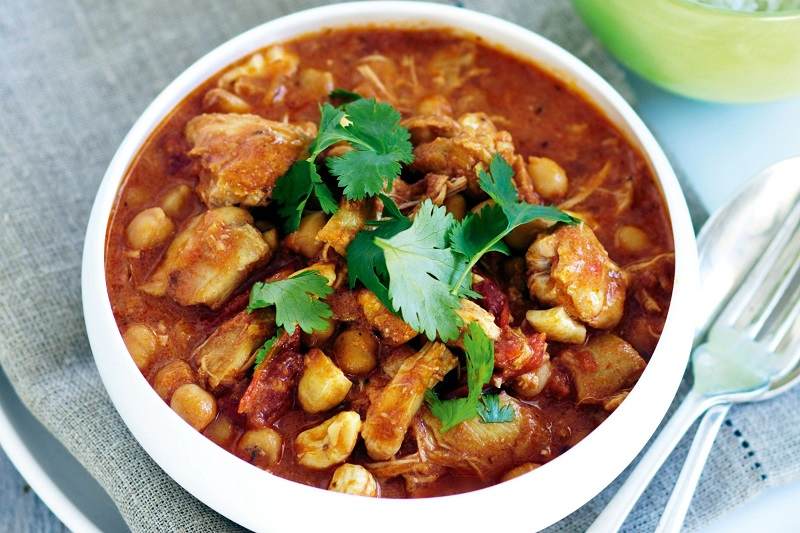 When winters roll around, the takeaway menus get to pluck out. That's for a good reason actually. Curries are really very warming stuff to eat. Moreover, you get lots of calories for the money you spent. Yes, you gain at a cheaper price, by bulking up with a protein-packed curry.
Take chicken breasts and cut them up, after that you can add sour cream and a can of chickpeas. From here, turmeric, curry powder, and coriander can be added to finish things off.
#3:

Super Soup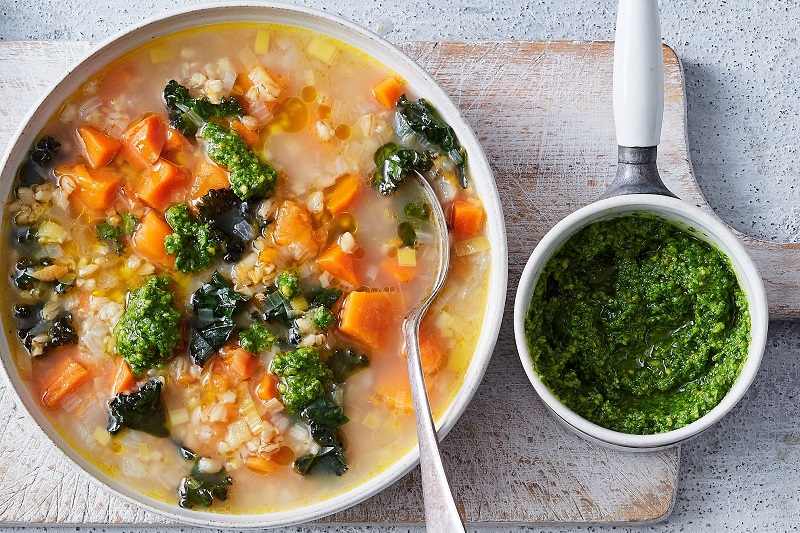 Super Soup is just the super thing for the coldest days. You just need to prepare some super winter soup. Keep care don't pinch on the nutrients.
Chop up some carrots, cabbage, onions, and celery. Add them to a pan and put some chicken broth, some egg noodles, and water. After that, you need to slice up some chicken breasts and add them to the super soup and its ready.
#4:

Salmon And Green Salad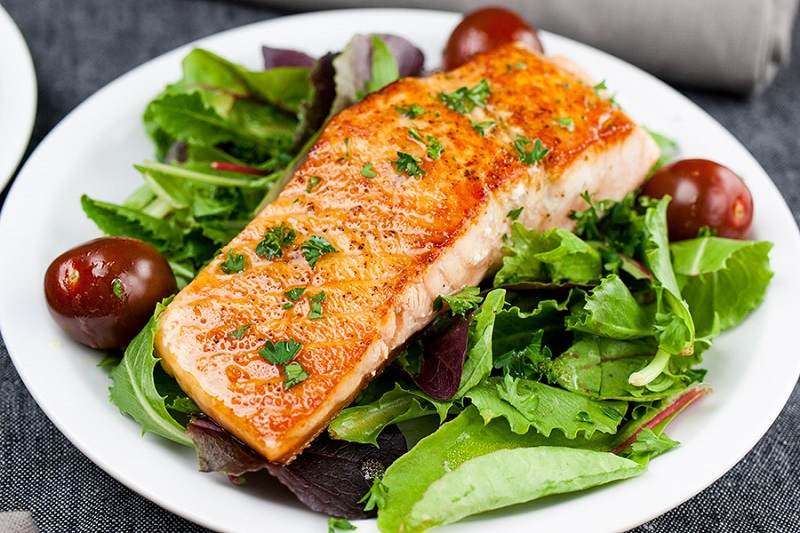 Cook up some salmon, green beans, broccoli, and spinach drizzled with some lemon juice. It is ideal for quick and healthy winter mean which will keep you warm for long.
Moreover, these can easily be stored and reheated later. Well, salmon is one of the top protein food items and as winter comes in its no less than a treat.
#5:

Sweet Potato & Tuna Or Baked Beans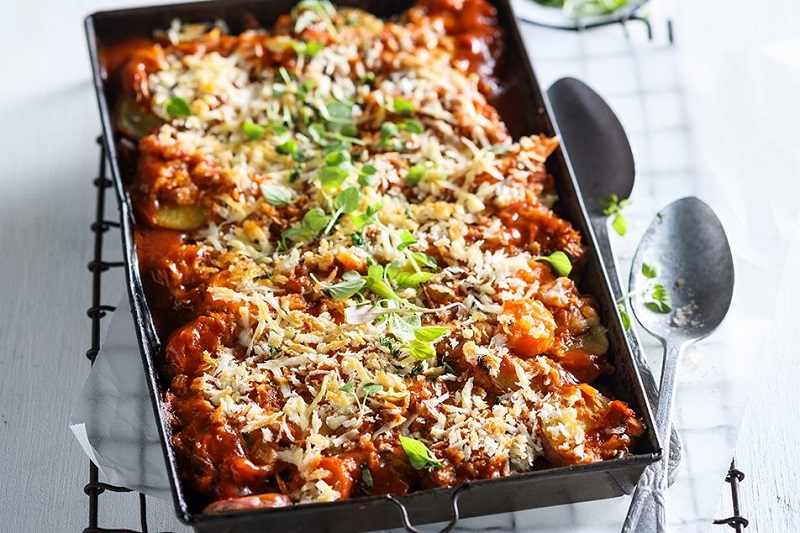 It's an easy substitute for a standard baked potato. You can cook a sweet potato in the oven or even in the microwave if you are in a hurry. Normal potatoes are also healthy options.
However, when it comes to tastes test sweet potatoes wins for sure. Moreover, these are a good source of vitamin A and Potassium.
On the other hand, baked beans or tuna are a good option for getting more protein on your plate. Baked beans are the best item when it's about something warm and tasty.
Well, these were the different meals you can have for your Winter Bulking Diet. Next, we have shared some specific meal ideas for your breakfast, dinner, etc. check it out!
Meal Ideas For Specific Timing |Diet Plan For Bodybuilding 
Winter is the time, you would like to sit ideal and it brought up a sort of lethargy. Snacking is something that is not unusual at this timing. However, healthy snacking can be a sort of relaxation. So, here we are sharing some winter meal ideas for specific meal timing.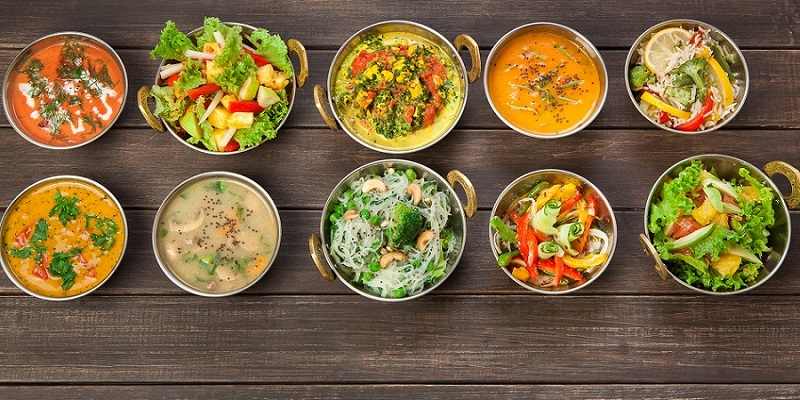 #1.

Breakfast
Morning is the time to get your body prepared with the day ahead. It's the time to full fill the energy requirement of your body. Simply, you need to have breakfast which makes you full. Importantly, it should contain a number of proteins like egg whites, milk, protein supplements, or low-fat yogurt. For carbs, you can go for brown bread, eat oats (not instant oats), and cereals.
#2.

Morning Snack
2 to 3 hours after breakfast, you should have some light snacks. Actually, this will keep up with the energy demands of your body. A protein shake, a can of tuna or fiber bars are good options to go for.
#3.

Lunch
Evidently, it's an essential meal of the day. The meal should comprise all the vital elements necessary for a balanced diet mostly emphasizing proteins and complex carbs. For example, you can go for a serving of brown rice or whole-wheat pasta with baked chicken breasts
#4.

Afternoon Snack
After 2 to 3 hours of lunch, you need to refuel your energy tank with some carbs and proteins. You can have tuna or a serving of lean protein like fish steak, or chicken. Furthermore, a protein shake is not a bad idea to go for.
#5.

Dinner
As usual, you need to fill your platter with lots of complex carbs and lean protein. Also, you should include a good amount of veggies. This will add sufficient fiber, nutrients, and vitamins which are necessary for overall health.
#6.

Bedtime Snack
Before going to bed, you can have yet another snack. Simply, this meal you need to schedule your dinner at least 3 hours before bedtime.
Your bedtime snack can comprise of protein supplement mixed with either low-fat milk or water. Further, you can substitute it with 3 hard boil eggs and make sure that 2 are whites only. If you want to have fried one, fry it in olive oil.
#7.

Pre-workout and Post-workout Snacks
Before and after workouts, you should always eat a high cal snack. It should have starchy carbs like bread which can be easy and quick to digest. Actually, this upsurge you blood sugar level quick thus elevating your energy level. A protein shake or any other healthy protein snacks such as low-fat yogurt is also important. Actually, this helps you recover quickly after the exhausting workout session.
#8.

Water and Flaxseed oil
Most importantly, you should drink water as much as possible throughout the day. Water maintains your body function properly. It is advised to drink more water if you weight more.
Moreover, you can take Flaxseed oil as this helps you control your appetite and diminish the fat level in your body. Surprisingly, it reduces the inflammation of body joints. You can also get it in the form of pills or also in various foods.
So, this was the different meal idea for the specific Mealtime. Lastly, we have shared 5 days Winter Diet Plan For Bodybuilding.  Don't forget to check it out!
5 Days Winter Diet Plan For Bodybuilding
Here, we have shared a typical 5 days Bodybuilding meal plan for winter. This will help you bulk up in the colder month with ease. You can swap around the meal to get something interesting on the plate.
Substitute, mix and match or interchange the meals entirely. However, make sure you are getting but enough of greens and protein short of heaps and heaps of fat.  You can prepare the meal for the entire week in advance and swap it to have something interesting every day.
So, here we have shared 5 Days Meal Plan For Bodybuilding In Winter.
Day 1
Breakfast: Egg white omelet along with chopped peppers.
Mid-morning snack: Protein or Mass gainer shake.
Lunch: Chickpea and Chicken curry.
Afternoon snack: Greek yogurt with lots of winter berries.
Post-workout snack: Protein shake along with 5g creatine, such as MaxiNutrition Cyclone.
Dinner: new potatoes, sirloin steak, broccoli, and salad.
Day 2
Breakfast: Wholegrain toast with Scrambled egg and avocado.
Mid-morning snack: Protein or Mass gainer drink.
Lunch: 'Super' soup.
Afternoon snack: Chopped apple with the topping of Peanut butter.
Post-workout snack: Protein shake with around 5g creatine, such as MaxiNutrition Cyclone.
Dinner: Brown rice with Chili.
Day 3
Breakfast: Bagel with peanut butter.
Mid-morning snack: Protein or Mass gainer shake.
Lunch: Sweet Potato along with some baked beans.
Afternoon snack: Flapjack of Banana and protein.
Post-workout snack: Protein shake along with 5g creatine, such as MaxiNutrition Cyclone.
Dinner: Quinoa or rice with Salmon and green salad.
Day 4
Breakfast: Cinnamon and oatmeal – a perfect winter warmer meal if you are in a hurry.
Mid-morning snack: Protein or mass gainer shake.
Lunch: Brown rice, chicken breast, and a hot sauce of your choice.
Afternoon snack: Banana with Dark chocolate.
Post-workout snack: Protein shake along with 5g creatine, such as MaxiNutrition Cyclone.
Dinner:  Curry of Chickpea and chicken.
Day 5
Breakfast: Omelet of Egg white with peppers.
Mid-morning snack: Protein or Mass gainer shake.
Lunch: 'Super' soup along with wholegrain bread.
Afternoon snack: Apple with the topping of peanut butter.
Post-workout snack: Protein shake along with 5g creatine, such as MaxiNutrition Cyclone.
Dinner: Brown rice and Chili.
Remember meals for Winter Diet Plan For Bodybuilding is all matter of educating yourself about healthy food items.  This won't only make your winter warmer but add the flavor and taste which will keep your tummy tight.
Make sure you don't skimp on the greens, play as much as with spices, you will eventually enjoy each and every meal. Well, we have provided the best details and hope that the meal plan is gonna make your winter easier. So, which is your favorite meal out of the listed? Tell us in the comment section right below.
Read Next:
Top 17 Protein Foods for Bodybuilding | A Beginner's Diet List
Best Time to Drink Protein Shake, Before or After Workout to Build Muscle
7 Healthy & Tasty Junk Food Items For Gaining Muscle Mass