Willie Murphy, the award-winning bodybuilder is again making a headline. The 82 years old fitness fanatic has emerged as the epitome of courage and bravery.
Before we move to the exciting story of her audacity and heroism, let's seek a backdrop of her.
She Is Already A Champ!
At the age of 77, she had backed up several trophies at World Natural Powerlifting Federation World Championships. The self-learned and self-trained bodybuilder weighing around 105 pounds deadlifted 215 pounds at the championship. Actually, the even had held on the 15 and 16 of November 2014 in Atlanta.
This news has made a major buzz at that time being. Eventually, Willie Murphy Bodybuilder had got lots of applauds and appreciation for her love for fitness & bodybuilding.
A few years before, who knew, she is going to bang the championship when she started with 5 pounds weight.  Well, the inspiration to her came from a signboard of weight-lifting competition at the Metro Carlson Y.
The very moment she inquired about her participation in the completion and they welcomed it.
Don't worry! You can start with small, wherever you want, you just need to start.
These were some of her inspiring words…
"Exercise is the key to staying healthy." She states further. You don't require to be a world-class weight lifter or do several one-handed pull-ups. All you need to do is enough that makes you feel like you are moving something and your blood keeps flowing in your body.
Willie Murphy Bodybuilder Workout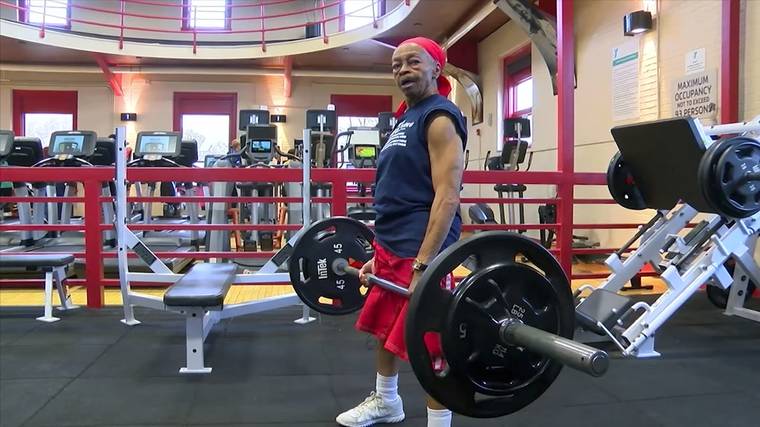 With the arrival of morning, the roof of the Maplewood YMCA has the steps of three folks in the weight room. One man having the bicep of the diameter of telephone poles; the other looked like he could lift a small car with ease.
The third one was the 77-year-old lady (in 2014) with a cute laugh, who deliberately said that Y is the best place for senior citizens.
She can lift twice of her own weight, in addition to that, the fitness freak is fond of workout. She can do one-handed pushups, one-handed pull-ups, and fingertip pushups.
Don't challenge her for pushups in which fingers are put into diamond formation and you go all the way down to the floor?
Sticking To Natural Is Necessary Says Willie Murphy Bodybuilder
Keeping things natural is vital for murphy. Her strength isn't out of the blue, she says it's all-natural. "None of the steroids are for me."
Not only that, she doesn't use any belts, ammonia or hand power, usually used by bodybuilders to gain extra advantages at different championships.
She might think about it, but she doesn't have practical knowledge of using those weightlifting aids. Obviously, personal training is quite expensive, "who has $39 every hour?" she said in a grumbled tone.
Breakthrough Winning at '80s
Of course, it's not much of a need for her. Already, she has won her category in the deadlift completion in WNPF World Championships 2014 without using any.
Also, she paced up some other awards at first place in the bench press, power curl, and bench press repetition. Also, Willie Murphy Bodybuilder got the World Natural Powerlifting Federation 2014 Lifter of the Year award.
These were not enough for her when she came back home from the World Championships in Atlanta. She headed on to WNPF New York State Power fest competition in Henrietta with perseverance and backed up another bunch of awards.
She has run out of room to keep her awards. That's why she has brought out some of them at the Y to display. She hopes to inspire other women, senior and folks who suffer from obesity, diabetes, and high blood pressure to follow a fitness routine.
Willie Murphy Bodybuilder Diet Has All
Murphy love laughing and for her eating has no sort of prevention, she eats what she wants to. Of course, that includes Pizza Hut on football days, with rum and cranberry juice.
That's because she keeps to her self-made workout routine firmly. She heads to the Maplewood Y to lift weights, dumbbells, and powerwalk every Monday, Wednesday and Friday morning.
Dieting is no big deal for her, usually, she keeps it healthy as it can be. But skipping junkies all-round the week in not her thing.
Aging is Just a Myth!! The Reason Behind Her Getting Back In the Limelight!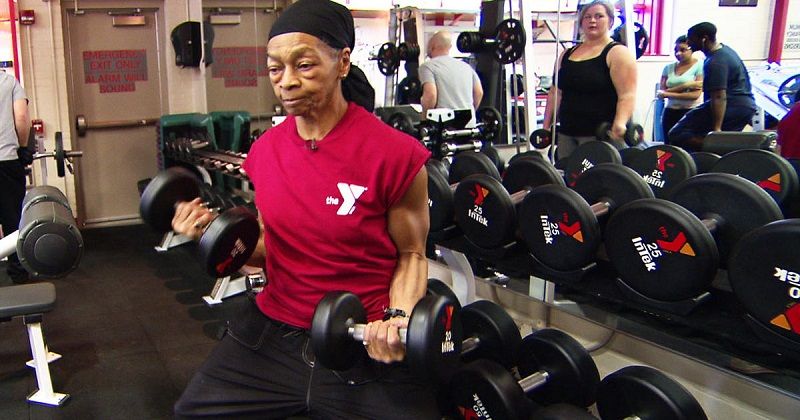 The bodybuilder has come to the major limelight, of course, the reason is her love for bodybuilding, giving her the boost to fight.
Award-winning champ gave a lesson to a suspected home invader who won't forget ever. You're never too old to deliver such a whooping punch!
The 82-year-old bodybuilder was alone in her home in Rochester, N.Y. when an invader broke out at 11 p.m. when she was going to bed.
According to the reporters, firstly a person began drubbing on her door. He pressed her to call an ambulance because he was unwell. She did as he said, but denied to let gun in, infuriating the man.
After which she heard him, trying to break in. as lights were off at the nighttime, Murphy hide and caught him off guard and gave him ass whopping!
I took that small table and smashed over him," she told the reporter. I'm alone and I'm old, but guess what? I'm tough.
The bodybuilder hit his ass off with the table so hard that it turns into pieces—but she didn't stop there. Once she hit him down, she started clumping on him.
Then, she ran about to get a bottle of baby shampoo and poured the whole bottle in the intruder's face. Lastly, she brings her broom and beat him up.
Well, the punishment by the 82-year-old was so ruthless that the alleged intruder became injured.
Evidently, the World Natural Powerlifting Federation champion and 2014 Lifter of the Year, can lift unto 225 pounds. She didn't have an issue in beating his ass up but she found it difficult to throw the invader out of her house.
He wants to get the heck out of there and I'm trying to help him get out of the house, but I can't move him," she said. He's dead weight. I had really done a number on that man, she added.
Fortunately, the police arrived shortly after the incident. She denied to put any charges over him, but of course, take selfish with very first responders on her front entrance.
When she got back to the local YMCA, where she workouts every day, she again got a round of applauds and Also another round of selfies for good measure.
"He picked the wrong house to break into," Murphy giggled.
After reading this incident with Willie Murphy Bodybuilder, we can say—Age is just a number, our determination plays the major role!
Did you find the story of this spunky and sweet lady inspiring?
Tell us in the comment section!
Read Next: 
Kai Greene Miracle BodyBuilding Tips For Back, Chest & Legs