Needless to say, the name itself does not require any introduction. Dwayne Johnson, known to millions of people all over the world both as a wrestler and Hollywood actor, has gained huge popularity in both fields. He is also known as The Rock, Barhama Bull and the Rocky Maivia to his fans.
The popular actor is also recognized as one of the highest paid actor in the Hollywood for appearing in number of movies that have proven to be smashing hits over the years. He is nowadays one of the most-demanding stars in the movies.
Despite of this fact, this American model, actor and professional wrestler has been accused of using steroids. This question "is rock natural" is raised due to significant changes in his physique.
In fact, some of these speculations can be explained by the use of steroids only. Dwayne Johnson has been the inspiration for many young generations who wants to try their career in acting and wrestling as well.
Though Johnson was born with gifted genetic by family, he was questioned about using steroids due to his highly ripped and sculpted body. Johnson was nurtured under the professional wrestler 'Rock Johnson' and Peter Maivia, who is a Samoan Wrestler.
He acquired hard working ability from his grandfather, Peter Maivia. His career begins as a footballer at the college days and soon becomes a professional wrestler.
Dwayne's Background
Rock was born in a wrestling family where his father as well as mother both are wrestlers. Wrestling and bodybuilding is actually in his blood that he got to know from his very young age. Rocky Johnson was Dwayne's father who was the first black wrestler to win the Tag Team championship belt.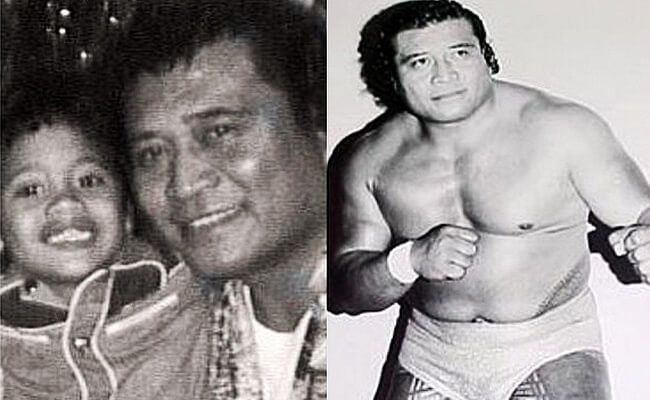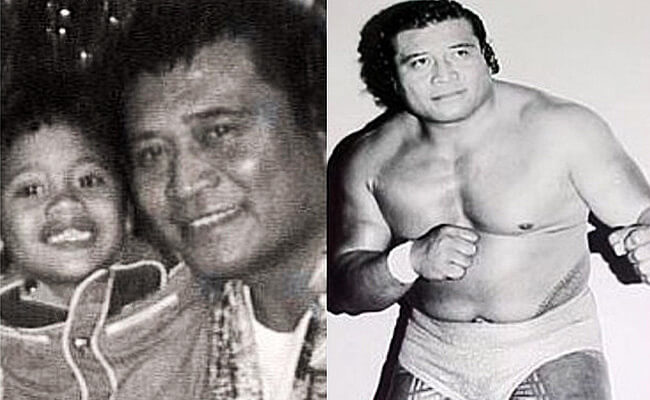 He grew up and lived the life of a wrestler's son. That time, pro wrestling wasn't great as it is now so the pay wasn't good. His family struggled through financial crisis. Then onwards he swore that he will do whatever it takes to ensure his family won't suffer again.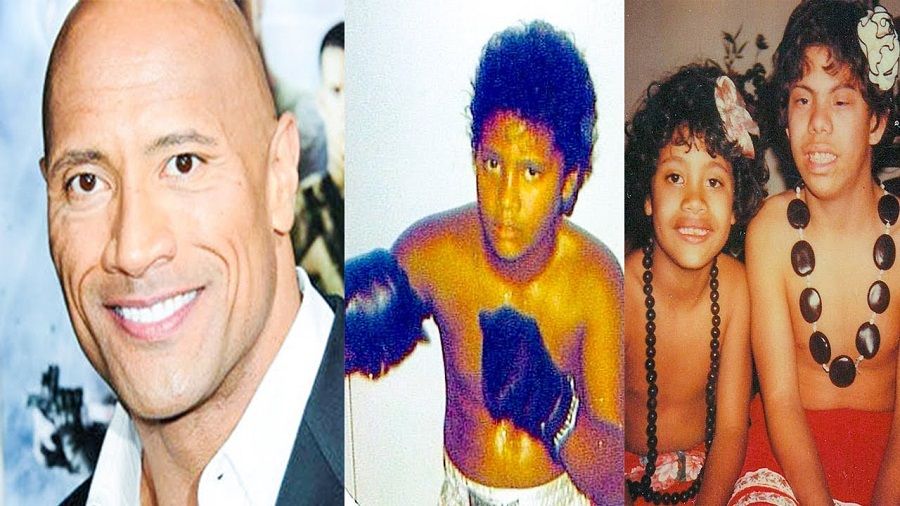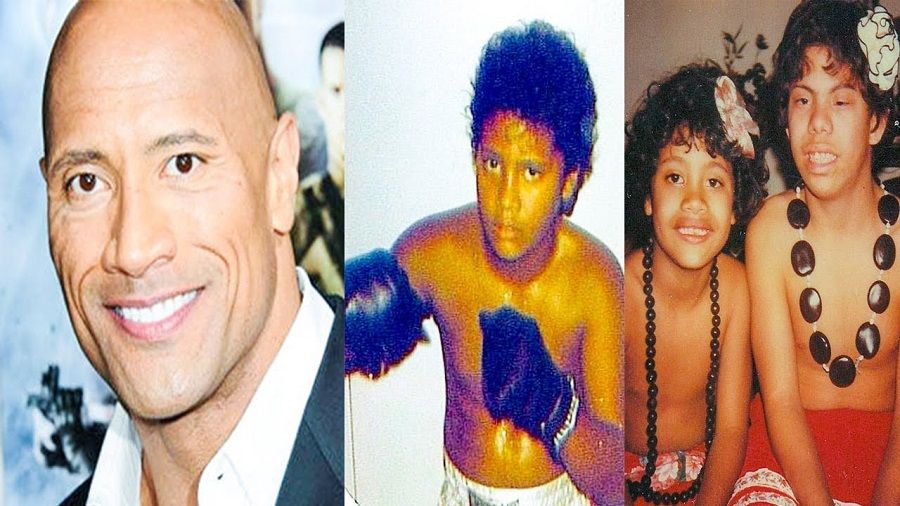 He got into football and proved to be very successful. Rock tried to make his way onto professional football teams but unfortunately an injury sidelined him from Miami Hurricanes. His dream shattered, he went to his father and asked him to teach wrestling.
Initially his father refused but lastly he relented. And very soon he was signed for WWE which was back then known as WWF and his wrestling career began. That was turning point for Dwayne.
Athlete's Statistics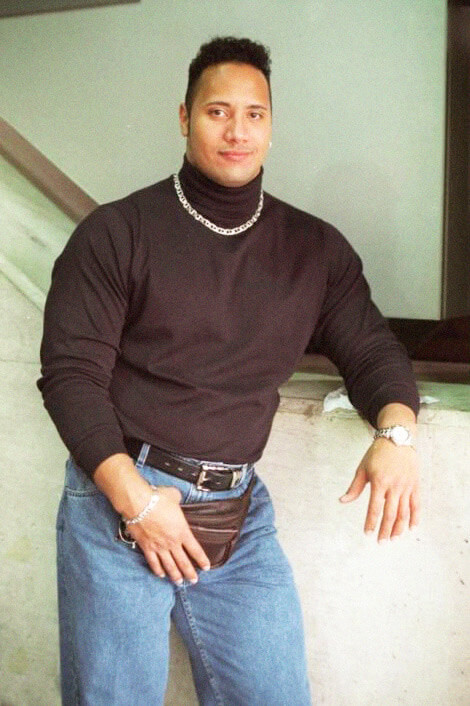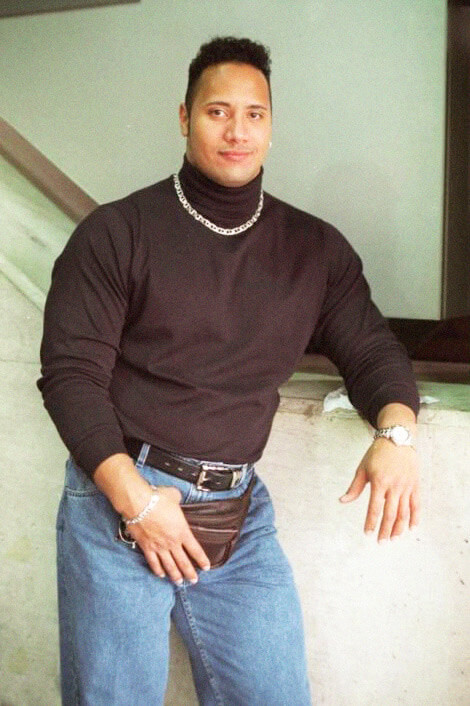 Weight – 250-265 lbs (113.3 kg – 120.2 kg)
Height – 6'5" (195.5 cm)
His body measurements –
Arms – 20"
Chest – 50"
Waist – 35"
Thighs – 31"
The huge muscular body of the former WWE Superstar is nearly impossible without using steroids.
Requirement of progressive career in bodybuilding and some roles in Hollywood movies as superheroes made him to appear as huge, bulky and extra strong.
But the fact that raises the steroids speculation the most is his bulk muscles, reduced fat, ripped and way too defined physique.
Dwayne, age 45 years but still looks like a professional bodybuilder. But it seems that he is even challenging his age by training himself hard and hitting the gym regularly to maintain his hard earned body.
His Physical Appearance
Back in the year 2002, Dwayne during his WWE career dropped fat and became leaner. He lost around 25 pounds for focusing on the movie roles. Since then he kept this physique same for many years and didn't get jacked up.
Rock suddenly appeared after few years with huge quality muscle mass for his movie "Fast and the Furious". He looked much bigger.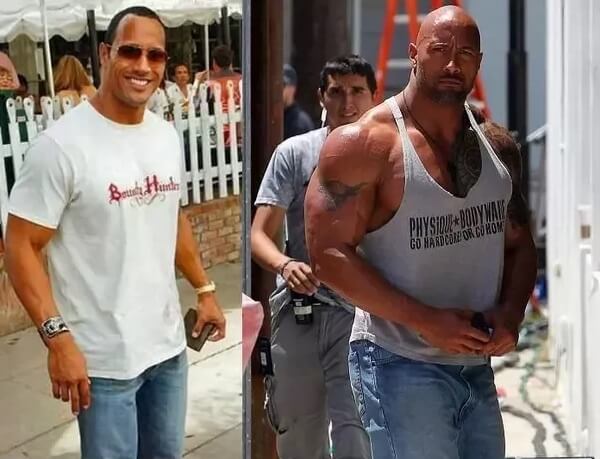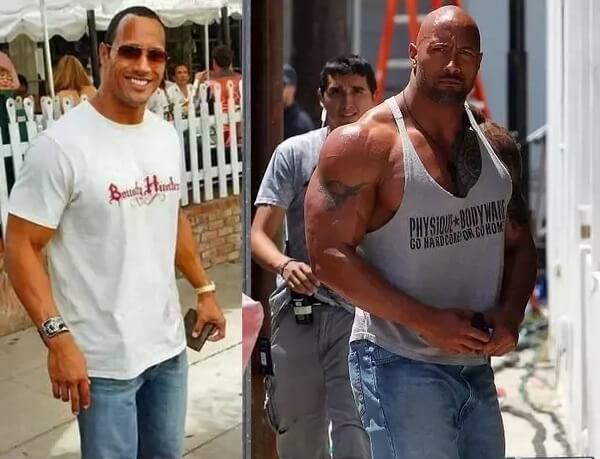 It seemed like he had put on 60 pounds and became 280 pounds in weight. In 2011, he appeared with more incredible physique as huge as possible, vascular and ripped.
Rock's incredible transformation – see his before and after images in this video –
Flushed Skin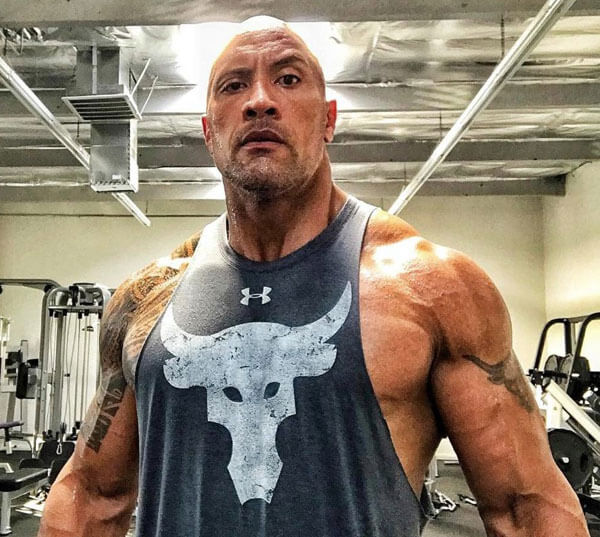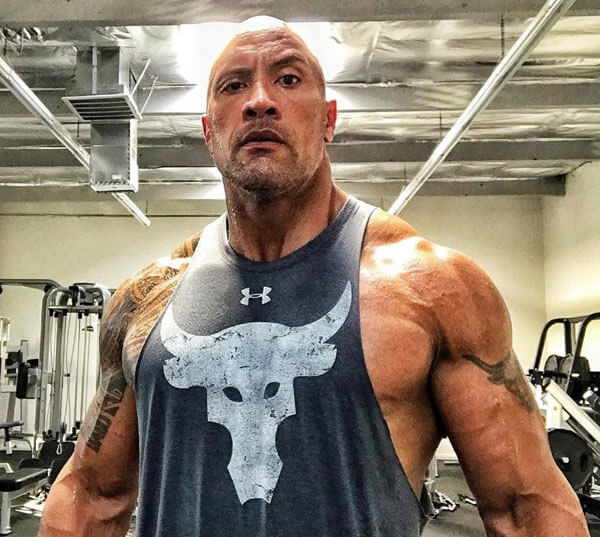 Johnson's skin turned into darker color due to rise in blood pressure. The elevated temperature of the body turns the skin color darker so as to prevent internal organs from heat.
Many professional bodybuilders have pink or reddish skin because of the steroids use that promotes increase in body temperature.
Steroids basically flush the skin and then it turns the skin in pink or reddish in white men and dark color in black men.
The same thing is followed with Dwayne who appeared to be few shades darker. This factor contributes to the rising speculation of his steroid use.
Big Traps & Delts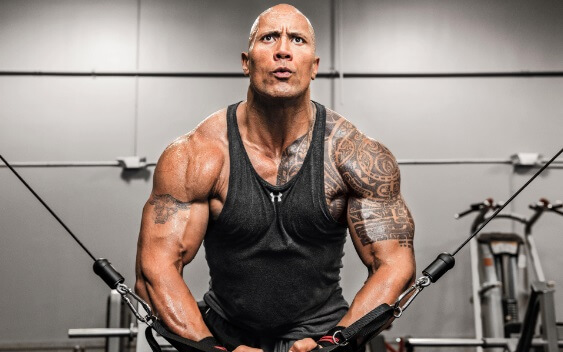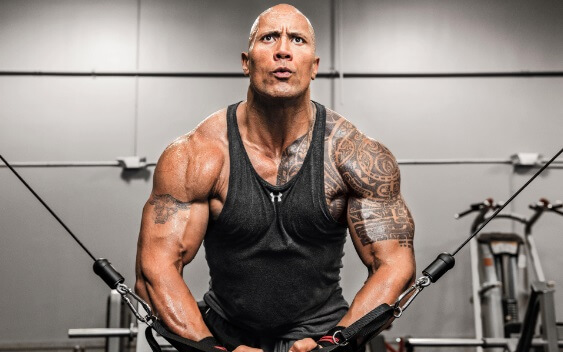 One of the most dominant muscle group of Rock is traps that has always been bigger and huge. However, huge traps are clear sign of using steroids due to the high presence of androgen receptors.
When someone hop into steroids use, trapezius muscles are the first muscle group to blow up more rapidly than any other muscle group.
Is Dwayne really on steroids?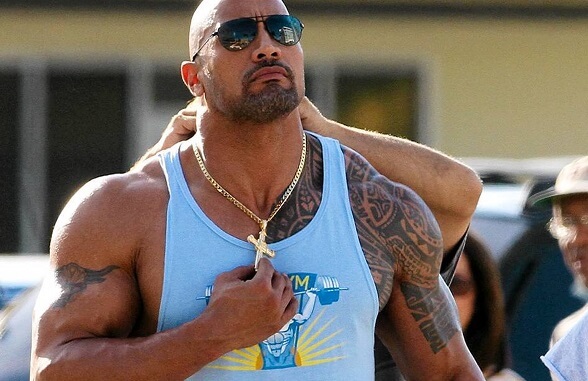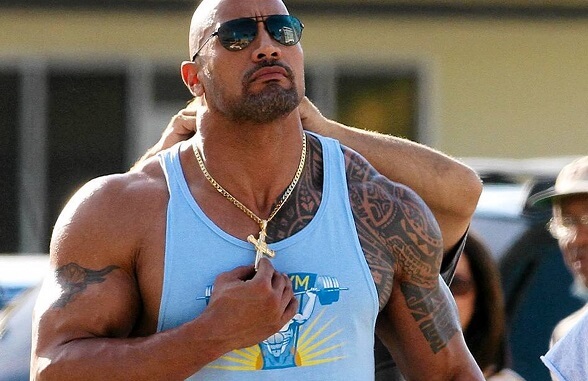 Based on the findings, it seems that Dwayne Johnson uses steroids for bulking up but when talked about steroid use, this is what he has to say.
In a recent interview, the famous wrestler-cum-actor Rock admitted that he used steroids.
He said, he tried steroids when he was only 18 years old with couple of his friends. At that time, he and his friends only meant to experiment new thing but he took it only for 2 weeks.
He also stated that it was just his past and didn't really know what they were doing and what it could do to them.
Soon after realizing its side effects, he stopped using them and never touched them again. According to him, it was just a childhood experience.
Regardless of what he says, rapid change in his body and age makes it completely unlikely that he is not on steroids.
Also Know: Did Ronnie Coleman Use Steroids or is Natural?
Dwayne talks about his steroid use in this video:
Workout & Meal Plan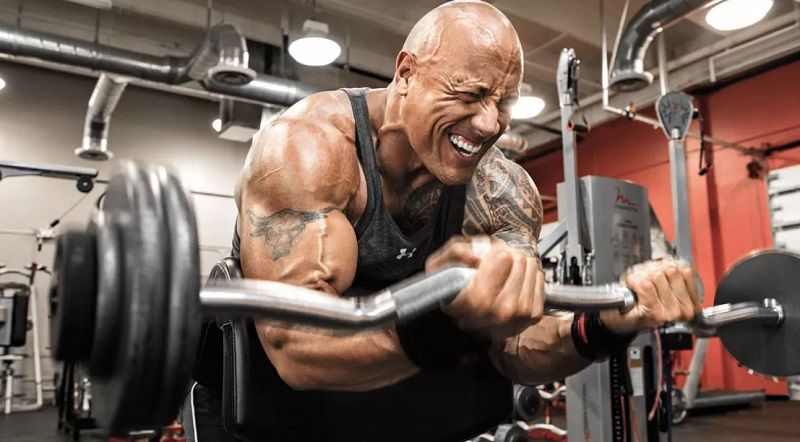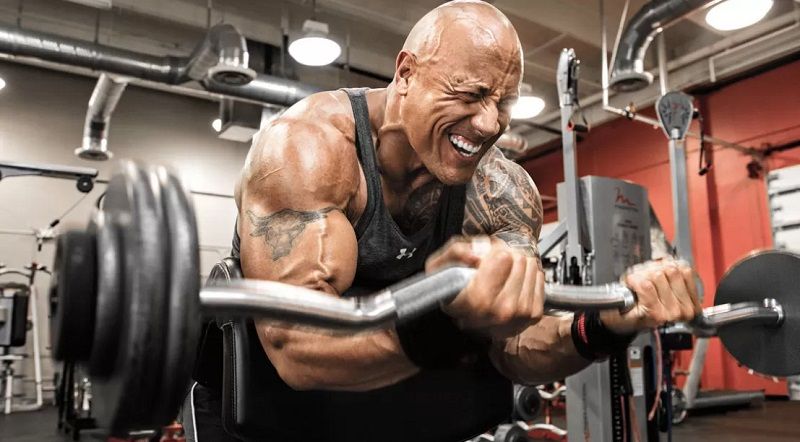 Nevertheless, Johnson has intense workout sessions and strict diet to follow. He very carefully selects his meal plan and always go for lean protein diet to stay stronger and lean.
His first training session begins at 4.00 am in the morning with merely a cardio exercise which lasts for 30 minutes. This training basically depends on the role of his movie.
Dwayne said, he generally spends 30 to 50 mins on the elliptical training after having a cup of coffee. He used to hit the road as well whenever he stays at home.
Dwayne's second training session starts after cardio exercise where he works with heavyweights. His day starts with the following cardio exercises –
Monday – Chest Workouts
Bench presses
Dumbbell press
Cable flys
Tuesday – Leg Workouts
Leg presses
Leg curls
Barbell lunges
Wednesday – ABS & ARMS WORKOUTS
Thursday – Back Workouts
Friday – Shoulder Workouts
Shoulder presses
Raises
Reverse flys
Saturday – Leg Workouts
Walking lunges
Calf raises
Thigh abductors
Sunday – Rest Day
However, depending on the intensity and requirement for a movie, his workouts are adjusted.
Meal Plan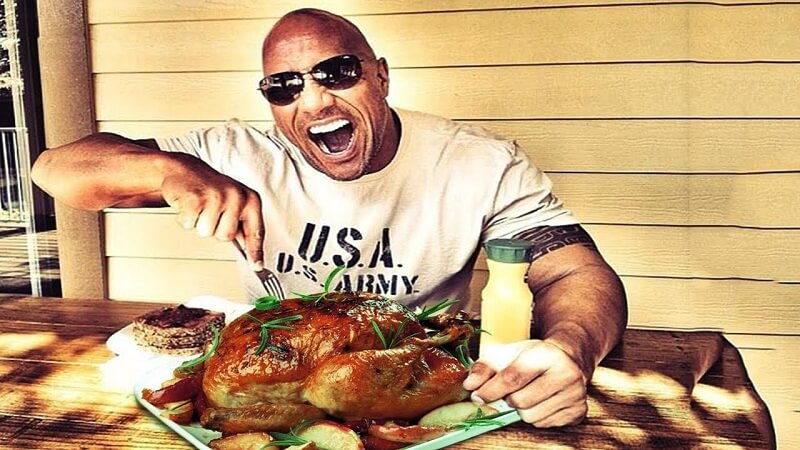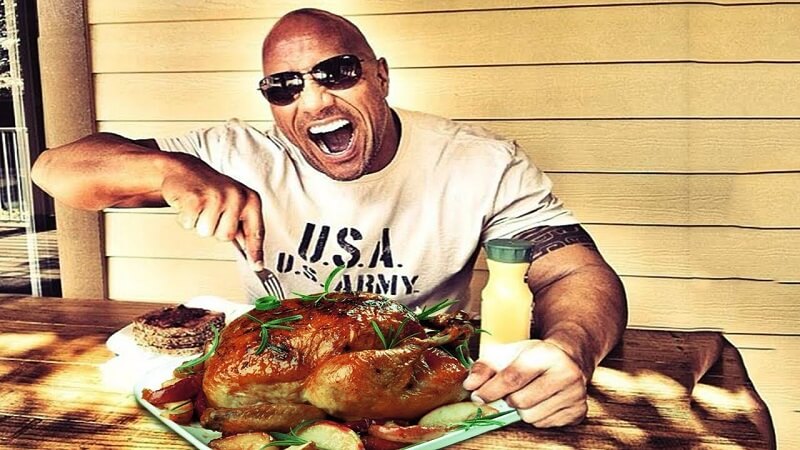 Dwayne's meal plan is also adjusted according to his requirements, but usually, he eats the following on daily basis.
Meal 1
2 whole eggs
10 oz cod
2 cups oatmeal
Meal 2
1 cup veggies
8 oz cod
12 oz sweet potato
Meal 3
1 cup veggies
2 cups white rice
8 oz chicken
Meal 4
1 cup veggies
1 tbsp fish oil
2 cups rice
8 oz cod
Meal 5
spinach salad
8 oz steak
12 oz baked potato
Meal 6
2 cups rice
Salad
10 oz cod
Meal 7
1 cup veggies (onions, peppers, mushrooms)
1 tbsp omega-3 fish oil
10 egg-white omelet
30 grams casein protein
All his diet plans are prepared by chefs in coordination with his coach and conditioner in order to make sure that he gets all the necessary nutrients or food in right amount. When he has to bulk up for movie, he includes lot of protein in his diet.
Eventually, it is bit hard to clarify that Dwayne Johnson is using steroids undoubtedly to bulk up. His statements though states that he is all natural but his extremely ripped physique and defined muscles tells a different story.
Anyways, the physique like Dwayne Johnson is perfectly attainable for natural bodybuilders with intense workout and strict diet but it becomes very easy with steroid use in short period of time.
Whatsoever facts and descriptions say but this fact cannot be denied that Rock has strong wrestling genes and background. Being a descended from wrestlers, it is easy for him to earn muscular physique, shredded and ripped abs that can come from genes, strict diet and strenuous workout sessions.
Dwayne Johnson (The Rock) is a real and true symbol of hard work as well as a great source of inspiration for millions of people around the world. Therefore, people must respect his talent and his willpower.
Related Post: Former WWE Star Matt Cappotelli Dies After Battle With Brain Cancer