Ronnie Coleman, one of the best bodybuilders of all times is famous for winning 8 Mr. Olympia titles. He was also entitled as "GOAT" which means the "Greatest of All the Time". Ronnie was a man with greatest physique for which he was even rumored for using steroids for achieving such hulk shaped body.
Most commonly, people think that it is nearly impossible to achieve such a great physique and immense power without using steroids or any performance enhancing substance.
However, at the same time, it does not imply that all the top class bodybuilders have used any kind of illegal drugs or steroids to achieve Superman level. Some of them have truly gained all the monster power and great physique through hard working and healthy and nutritious diet.
But, the case is bit different with Ronnie Coleman.
In the very beginning of his career, Ronnie failed to win even a single trophy. Soon after facing the failure, Ronnie was back with very strong motivation and made his name in the history of bodybuilding.
Previous Life of Ronnie Coleman
He was born on May 19, 1964 in the city of Monroe, situated in Louisiana, USA. Later his family moved to neighboring Bastrop where most of his childhood was spent. Ronnie was forced to make money from a very young age in order to contribute in the family budget.
Ronnie was very fond of sports from a young age and that he was keen interested in basketball, baseball and American football. Interestingly, the future Mr. Olympia's genetic was manifested at the age of 14-16 only where he weighed more than 80 kgs at about 180 cm of height.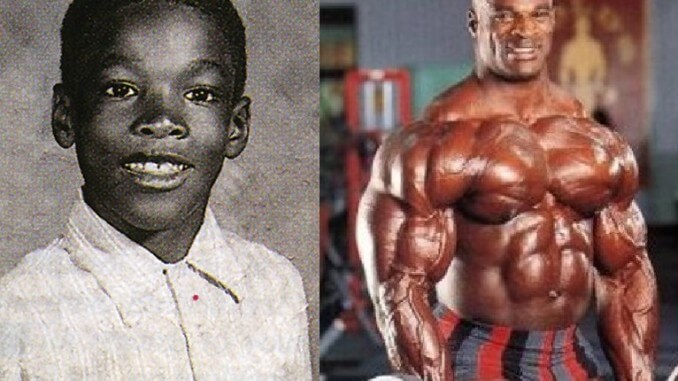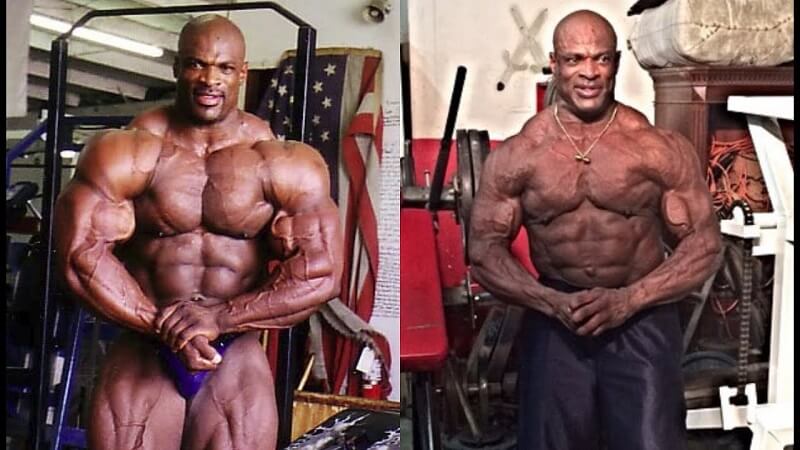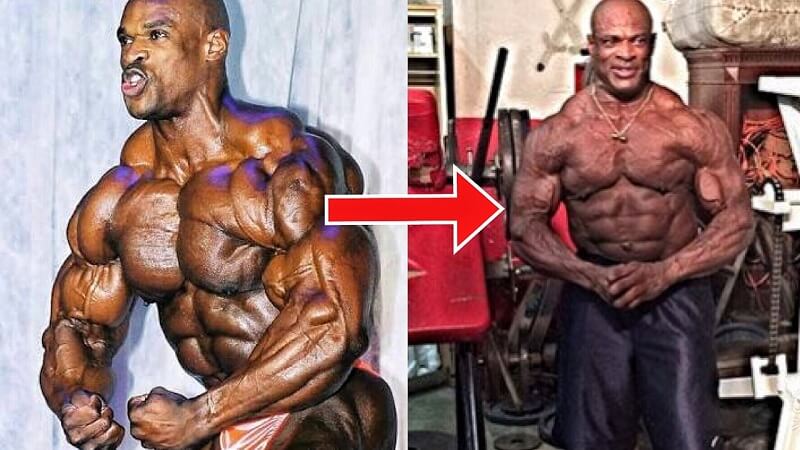 But to find a livelihood, Ronnie had to earn extra money. Before getting a job of police officer (his childhood dream), he worked as newspaper and pizza deliveryman and as an accountant for some time.
During his work as policeman, Coleman engaged himself in the bodybuilding. His colleague, Gustavo Arlotta approached him to join the MetroFlex Gym. Brian Dobson, the owner of the gym, at a glance noticed the Coleman's physical abilities and potential and immediately offered him free lifetime membership.
This made him to win many titles easily in both heavyweight as well as in general categories. While persuading his police duty, Ronnie trained hard in the gym and spent hours on weight lifting.
For irony, he even surpassed his mentor. Ronnie's triumphant procession lasted for almost 20 years.


His workout video
Video Source: Bodybuilding.com
Ronnie Coleman's Statistics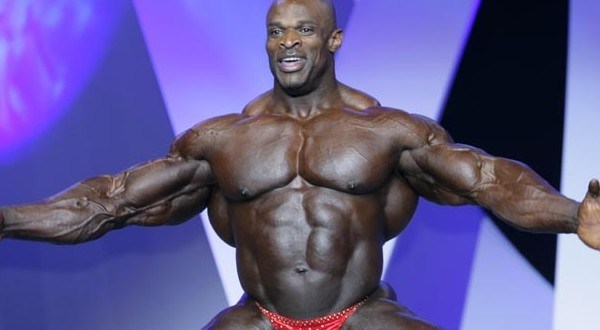 Year of birth – May 19, 1964
Weight – 305 – 315 lbs (138-142 kg)
Height – 5'11" (180 cm)
Body measurements
Arms – 24''
Chest – 58''
Waist – 36''
Calves – 22''
Thighs – 36''
End of Surgeries & Professional Career
After winning 4th place in the 2007 Olympics, Ronnie dropped his professional bodybuilder career. The athlete had always worked with extreme weights such as 1 ton long press which were considered as the most suitable weight for powerlifting but they were light, according to Ronnie.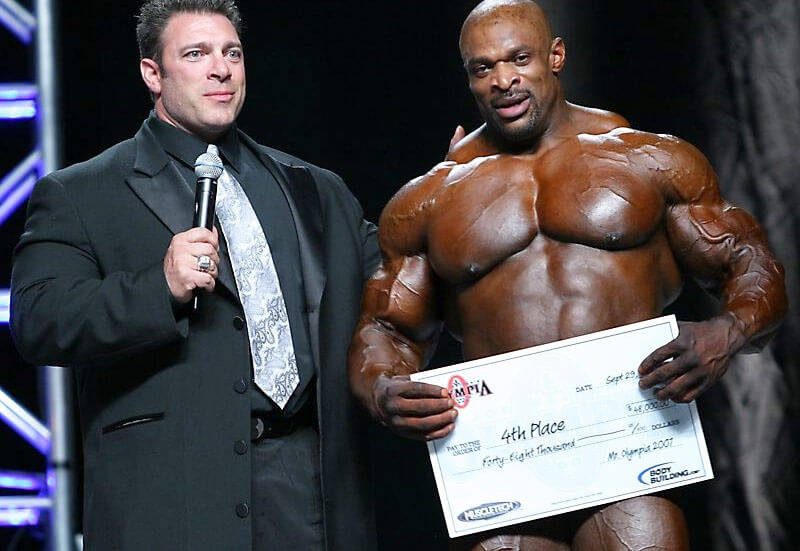 Unfortunately, this claim made him to replace his original joints with the artificial ones. It was in the year 2014 where he went through a hip joint prosthesis. And soon by the end of the same year, doctors implanted on his other thigh as well.
Further, he underwent other operations as well related to hernia of the lumbosacral spine. The intense training session had damaged his entire body so for that he had to undergo seven operations for his back within 11 hours of surgery.

Ronnie Coleman's Steroid Use
For some consecutive years or probably during his policeman era, he kept denying the fact that he had not used steroids or any illegal drugs for enhancing performance. The police service actually forced him to adhere the rule and regulations of the US.
This is why the athlete denied the fact of using anabolic steroids for bodybuilding. However, on the internet, people can find fairly old videos where Ronnie was conducting steroid courses but soon either the video was deleted or its content was simply removed.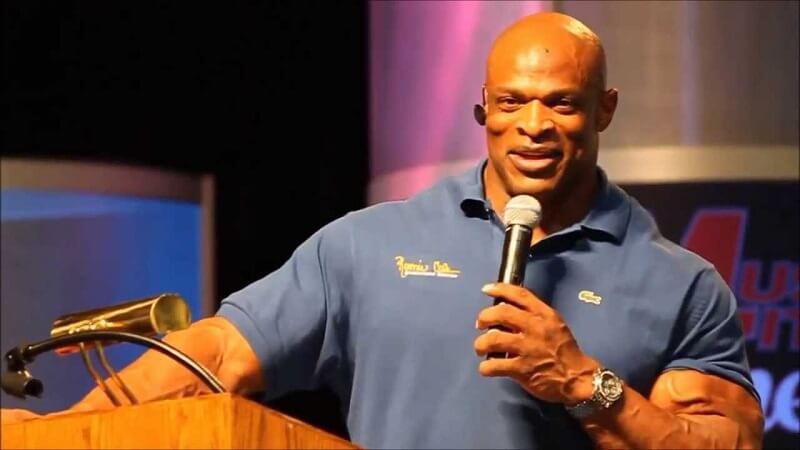 Soon enough, in the year 2011, Ronnie officially admitted that he used steroids while giving an interview to the "Muscular Development" magazine.
In the interview, he accepted that he took steroids during his bodybuilding career but under the supervision of doctors on which he also said, there is nothing wrong in accepting the steroid use.
Ronnie talks about his steroid use –
Ronnie's Steroid Cycle
Many people are keen interested in knowing what steroids Coleman had used during his steroid cycle. According to some sources, it is said that Ronnie might have use growth factors, growth hormones and insulin.
The others include Sustanon up to 500 mg per day, Deca Durabolin up to 200 mg per day, methandienone about 100 mg per day and 16 units of growth hormone per day.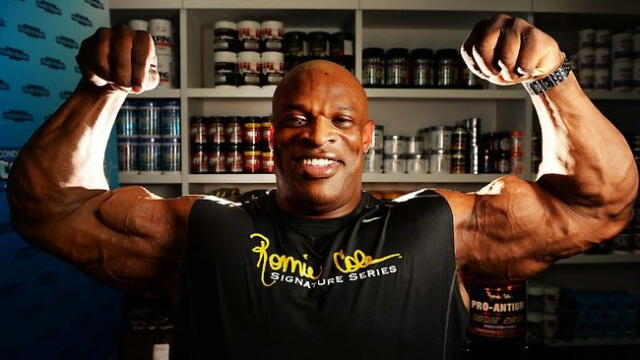 All the information stated above is a rough estimation and has never been confirmed by Ronnie Coleman itself or any of its closest source.
No any strong evidence exists that Ronnie had used these anabolic steroids.
Ronnie's Lifetime Achievements
1990 Mister Texas
1991 Mister Universe
1998 Mister Olympia
1999 Mister Olympia
2001 Arnold Classic Champion
2001 Mister Olympia
2002 Mister Olympia
2003 Mister Olympia
2004 Grand prix of Russian Federation
2005 Mister Olympia
There is absolutely no doubt in the fact that Ronnie Coleman has been a well renowned bodybuilder of all time. After creating many records and spending more than 15 years in the bodybuilding career, competing at the higher levels, Ronnie finally decided to take retirement.
As of now, Ronnie looks simply worse than before. It seems as if he has dropped weight and decreased twice in size.
Nevertheless, Mr. Coleman has never learnt to give up! He still goes to gym and workout to keep his body in good shape. He does not work with extreme weights any longer particularly for his legs.
Popular Stories
Bakhar Nabieva Admits To Steroids Use For Perfect Legs